SIFE Team Wins at USA Regional Competition
March 21, 2011
The OBU SIFE (Students In Free Enterprise) team was named a Regional Champion at the SIFE USA Regional Competition held March 11, in Rogers, Ark. The event is one of 12 SIFE USA Regional Competitions being conducted across the United States in March and April.
"This is a tremendous accomplishment for the OBU SIFE students," said Dr. David Houghton, one of the team's faculty advisors and dean of OBU's Paul Dickinson School of Business. "The team began the year with two students, neither of which had any SIFE experience. Under Katie Smith's leadership, the team completed six meaningful projects, logged 533 hours of service, and competed successfully against many established teams at the Rogers regional competition. The team has already begun preparing for the national competition and looks forward to the challenge."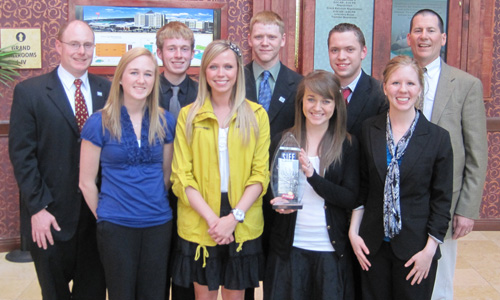 OBU's SIFE team represents one of nearly 600 programs in the United States. Participating students use business concepts to develop community outreach projects that improve the quality of life and standard of living for people in need.
During this academic year, the OBU SIFE team organized six projects in the Shawnee community, including the team's work with the Regional Development Committee to create a marketing campaign against roadside dumping.
"We believe our logo and slogan development for the campaign against roadside dumping will increase awareness of the problem we have in Pottawatomie County and be an important next step in cleaning up the county," said Katie Smith, a junior from Shawnee, Okla., who serves as the team's president. "All else being equal, it's easier to attract businesses to a county without litter and dumping problems. Everyone wins with a cleaner county."
The culmination of the SIFE program is an annual series of competitions that provide a forum for teams to present the results of their projects, and to be evaluated by business leaders serving as judges. Teams compete first at the regional and national levels, then at the international level when the national champion teams from each country meet at the SIFE World Cup.
As a SIFE USA Regional Champion, the OBU SIFE team now advances to the 2011 SIFE USA National Exposition in Minneapolis, Minn., May 10-12.
"That our students have accomplished this speaks to the excellence of our business programs, OBU's commitment to free enterprise, and the leadership of our SIFE team and dean," said Dr. David Whitlock, president of OBU. "As a former Sam Walton Fellow, I know personally of the hard work and dedication required to capture a regional championship and qualify for the national tournament.
"This accomplishment shows how our students are gaining vital knowledge while at the same time putting that education into practice. Our SIFE team exemplifies OBU's commitment to produce leaders who are equipped in their fields and engaged in their communities."
The OBU SIFE team includes Clay Dodgion, a junior from Macomb, Okla.; Tim Frymire, a freshman from Lava Hot Springs, Idaho; Chelsea Jordan, a freshman from McLoud, Okla.; Samantha Olson, a sophomore from Oklahoma City; Katie Smith; Caleb Stogner, a sophomore from Gainesville, Texas; and Jessica Storey, a freshman from Tulsa, Okla. The faculty advisors are Houghton and Dr. Craig Walker, Wheeler Professor of Economics.
SIFE (Students In Free Enterprise) is an international non-profit organization that brings together the top leaders of today and tomorrow to create a better, more sustainable world through the positive power of business. Founded in 1975, SIFE has active programs on more than 1,500 college and university campuses in 39 countries. Through projects that improve the lives of people worldwide, the university students, academic professionals and industry leaders who participate in SIFE are demonstrating that individuals with a knowledge and passion for business can be a powerful force for change.
For more information, contact SIFE USA at (417) 831-9505, OBU SIFE at (405) 878-3254.