Lady Bison Win NAIA Crown
March 7, 2011
OBU successfully defended its national championship Saturday, winning the NAIA Women's Indoor Track and Field Championships in Geneva, Ohio, despite an injury to one of its projected high-scoring athletes.

The men's team finished sixth with 32 points.

Gayon Evans came up lame in the 60 meters and didn't compete in the 200, where she was the second seed, nor the 4x400, which she was to anchor. That setback didn't stop the Lady Bison from winning its second national championship in a row and the fourth indoor title since 2005.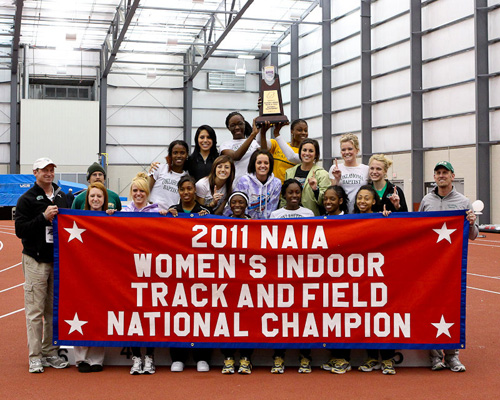 (Photo courtesy: Ryan Baker)
"Verone had a great meet. Whenever you have 10 girls score points, that's a great team," said Mastin. "That's strong. If you had told me that Gayon wouldn't score at all, I would have thought we wouldn't win the meet. She's just so competitive and goes so hard, that her legs couldn't take it."

(A reception for the team is planned for 6:15 p.m., Tuesday, in the Mabee Suite of the Noble Complex)

Meet MVP Verone Chambers stepped into the anchor role and claimed her third title in the meet along with Stacy Warrior, Shondia Drew and Nikita Tracey in the 4x400 relay, which was more victory lap than the dramatic finish last season. The team won in 3:44.16.

The Lady Bison had the meet won heading into the final event and finished with 75 points, followed by Simon Fraser at 58 and Azusa Pacific at 56.

But the Lady Bison won the meet long before that, Mastin said.

"I knew they were going to win in the fall," said Mastin. "They were too committed to win to do otherwise. You could just see it in their eyes."

In the 600, Tracey (1:33.38), Yesenia Avila (1:33.76) and Sarah Patterson (1:34.38) went 2-3-4 to give OBU 18 points.
Chambers won the 400 meters in 54.83 seconds with Warrior coming in second at 55.02 to give the Lady Bison 18 points in that event.

Chambers won the 200 meters for 10 points and a national championship in 24.03 seconds and also picked up eight points in the 60 meter hurdles in second place with a time of 8.48 seconds.

Nicole Cummings added to the fun, scoring points that the seed suggested wouldn't come, with a fifth place finish in the triple jump at 38-10.25.

Evans placed eighth in the 60 meters at 8.44 seconds.

The Lady Bison 4x800 relay squad of Tracey, Whitney Day, Andrea Mellontree and Avila were seeded seventh and not expected to score, but instead picked up six points with a third-place finish at 9:08.63.

Evan Shimanek was seeded sixth but got fourth in the pole vault, clearing 12-2.75. Haley McDaniel was 19th at 11-3.

The 17 Lady Bison at the national meet included Chambers, Evans, Tracey, Avila, Warrior, Drew, Patterson, Uniqua Copper, Shimanek, McDaniel, Cummings, Mellontree, Taylor Painter, Kirsten Betterton, Ashley Ashton and Kayla Lee.
OBU's men finished second in the 4x400 relay with Travis Bish, Seagram Kern, Ethan Mignard and Roman Gray finishing in 3:10.66.

Cody Camacho was fourth in the 800 meters at 1:53.63, while Adam Godwin took fourth in the mile at 4:12.97. Bish was fifth in the 600 meter at 1:19.65.

OBU scored with Juan Gonzales in the pole vault in fourth place at 15-9.

Derik Douglas finished just out of the points in eighth in the 60 meter hurdles at 8.13 seconds.

Camacho, Jory Custar, Bish and Godwin won the men's 4x800 relay, defending their top seed, in 7:37.39.

Douglas just missed points in the heptathlon finishing seventh with 4887 points while Jared Huckabee was 13th at 4525.
OBU Final Results

Men
Team Standings: 1. Shorter 44, 2. Wayland Baptist 41, 3. Hastings 38, 4. Azusa Pacific 34, 4. Oklahoma Christian 34, 6. Oklahoma Baptist 32, 7. Concordia Nebraska 30.5, 8. Central Methodist 26, 9. Oklahoma City 24, 10. Doane 20.
4x800 Relay: 1. Cody Camacho, Jory Custar, Travis Bish, Adam Godwin, 7:37.39
4x400 Relay: 2. Travis Bish, Seagram Kern, Ethan Mignard, Roman Gray, 3:10.66
Pole Vault: 4. Juan Gonzales, 15-9; 9. Jeff Lewis, 15-3; 12. David Gilliland 15-3.
800M: 4. Cody Camacho, 1:53.63
Mile: 4. Adam Godwin, 4:12.97
5000M: 4. Cordell Baker,
600M: 5. Travis Bish, 1:19.65
Heptathlon: 7. Derik Douglas, 4887, 13. Jared Huckabee, 4577
60 Hurdles: 8. Derik Douglas, 8.13

Women
Team Standings: 1. Oklahoma Baptist 75, 2. Simon Fraser 58, 3. Azusa Pacific 56, 4. Biola 40, 5. Shorter 32, 6. Indiana Tech 31, 7. Wayland Baptist 30, 8. Lindenwood 27, 9. Concordia Oregon 26, 10. Sioux Falls 23.
4x400 Relay: 1. Stacy Warrior, Nikita Tracey, Shondia Drew, Verone Chambers, 3:44.16
200M: 1. Verone Chambers, 24.03
400M: 1. Verone Chambers, 54.83; 2. Stacy Warrior, 55.02
60 Hurdles: 2. Verone Chambers, 8.48
600M: 2. Nikita Tracey, 1:33.38; 3. Yesenia Avila, 1:33.76; 4. Sarah Patterson, 1:34.38
4x800 Relay: 3. Nikia Tracey, Whitney Day, Andrea Mellontree, Yesenia Avila, 9:08.63
Pole Vault: 4. Evan Shimanek, 12-2.75; 19. Haley McDaniel, 11-3
Triple Jump: 5. Nicole Cummings, 38-10.25
60M: 8. Gayon Evans, 8.44