Embrace an Extraordinary Gospel, Hatmaker Pleads
March 31, 2011
Christianity is simple -- but it is not easy, Christian author and speaker Jen Hatmaker told OBU students during a weekly chapel message Wednesday, March 30. In fact, Hatmaker said, living a Christian life can be quite difficult.
But looking back over the 15 years since she graduated from OBU in 1996, Hatmaker said she wishes she had embraced the truths of living an extraordinary life in Christ. Instead, she said, she fell into the pace of so many Christians today who have chosen to study the Gospel rather than actually live it.
Hatmaker addressed the students and several guests as part of the annual Women's Missions and Ministry emphasis at OBU. Her message continued OBU's annual chapel theme, "Unadorned: A Return to the Simplicity of the Gospel" based on the book "Mere Christianity" by C.S. Lewis. She spoke on the theme "Counting the Cost."
Jesus made the Gospel very simple, she said, summarizing Matthew 22:37-37.
"Here's the deal: Love God with everything -- everything -- that's first," she said. "Next, love your neighbor as much as you love your own life. That's second. Everything else in the Christian life hinges on those two things."
For chapel messages, follow this link. 
She said as Christians are bogged down in church politics, busy work and turf wars, trying to squeeze the Gospel into a little corner of the American dream, Jesus says his Church is missing the focal point of his message. As a college student, Hatmaker said she had a great plan for her life, and she "generously sprinkled God" over all of her big ambitions. But she warned that the fallacy of Christians buying into the American dream is the idea that God wants each person to be safe, prosperous and almost always happy, and that God wants all of a person's individual dreams to come true.
"There is not one shred of that theology in Scripture," she said. "I don't even know where this came from. Because guess what? Is Christianity hard? As it turns out, it is hard. If your dreams involve the redemption of orphans and widows and unreached people; poverty and justice and human trafficking; hunger and disease and brokenness, then good news for you: God does want all your dreams to come true -- if you fit in that category, and if your dreams are the same as God's dreams."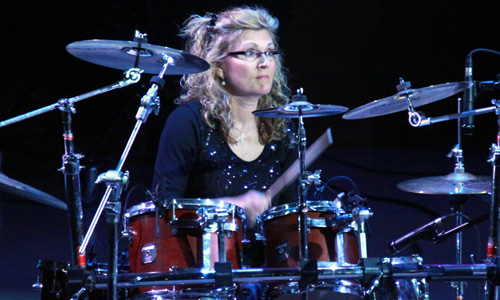 Hatmaker referred to a lyric in the worship song "Kingdom and a King" by Robbie Seay Band, which is sung in her church: "Oh God may we be focused on the least, a people balancing the fasting and the feast." She said the Church often focuses most of its resources on the "feast" of the Christian life, creating more classrooms, more Bible studies and more events for its own members.
However, she said in Scripture, a Christian's feast has a partner: the "fast." She said in a world where Christians outnumber orphans seven to one, and where one-sixth of the Earth's population claims to be Christian, it is difficult to reconcile the scope of human suffering.
"When the fast -- when the sacrifice -- of the Gospel is omitted from the Christian life, it isn't Christian at all," she said. "We've made it OK for Christians to do nothing, and still call themselves 'Christian.' It's not working."
She added that she learned after wasting several years in pursuit of the American dream that a Christian life without the challenges of the fast is actually boring.
"The Church that the Bible describes is exciting, and it's adventurous, and it is wrought with sacrifice," she said. "It cost believers everything -- and they still came -- because the Church was patterned after Jesus, who tells us he didn't even have a place to lay his head. He voluntarily died this brutal death for you and I, even knowing that one day we would reduce the Gospel to this self-serving self-improvement program."
Hatmaker told the students that the Gospel does not call for a truce about life, it calls for a complete surrender to God. While the true Christian life is hard, she said it is a treasure and a joy that cannot be rivaled by any inferior substitute.
"Students, please do not bore yourself to tears or waste your gifts on a garbage mission, because you are, without a doubt, a chosen generation," she said. "The skills, and the resources, and the opportunities that you have are unprecedented. With your extraordinary advantages of global communication and technology, I am telling you: there is not an international crisis that cannot be answered by your generation."
She urged the students to not squander their legacy on self-absorption or the American dream, or to try to fit the Gospel into their pre-planned lives. Rather, she pleaded with them to surrender wholly to the Gospel and fulfill God's call as a chosen generation.
For more information about Hatmaker's writing and speaking ministry, click here. For information about the church she helped start in Austin, Texas, with her husband, Brandon, a 1995 OBU graduate, click here.