Theatre for Young Audiences Presents 'Androcles and the Lion'
February 22, 2011
OBU's Theatre for Young Audiences will present "Androcles and the Lion" one weekend only: Friday, March 4, at 7:30 p.m.; Saturday, March 5, at 2:30 p.m. and 7:30 p.m.; and Sunday, March 6, at 2:30 p.m. Tickets are now on sale for the production which will premiere in Craig-Dorland Theatre in OBU's Shawnee Hall.
Even young audiences will recognize the ancient tale of a runaway slave who stops to aid an injured lion, is recaptured, sent to an arena to be killed by the beasts, and is saved because of his random act of kindness. What many may not know, however, is that the tale is true. This play by James Engelhardt tells the story as written by George Bernard Shaw.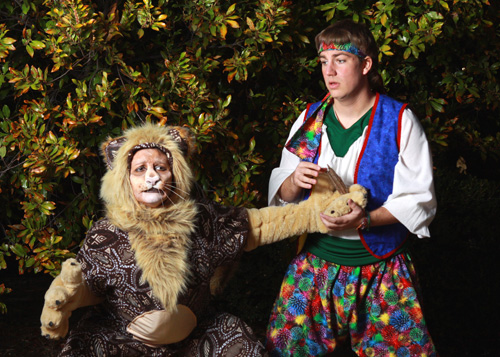 Laura Byland, associate professor and director of theatre who designed OBU's Theatre for Young Audiences, will direct the play.
"I think children should have a theatre experience especially for them," Byland said. "They are the audience of the future, but they need their own now. They deserve quality theatre, and we strive to do that by choosing plays that are not only entertaining, but also help the students learn something about what makes them human."
Byland said while students will be learning about friendship, loyalty and kindness, they will also be actively participating in the telling of the tale of "Androcles and the Lion."
"This production will be different because there will be so much audience participation," Byland said. "We will have some audience members sitting on the stage which will be different from any other children's show we have done."
The cast of "Androcles and the Lion" includes Androcles, played by Elliott Freeman, a 2010 OBU graduate from Paola, Kan.; Sadira, played by Kat Hunter, a junior voice major from Owasso, Okla.; Seneca, played by Joshua Ferguson, a sophomore musical arts major from Carrollton, Texas; Terence, played by Katherine Wortley, a senior theatre major from Fort Smith, Ark.; Plautus, played by Taylor Lowell, a sophomore interdisciplinary major from Edmond, Okla.; Brutus, played by Chad Lawson from Meeker, Okla.; Hester, played by Sarah Morris, a freshman theatre major from Fort Worth, Texas; The Lion, played by Taunia Logan, a senior theatre and art major from Perryton, Texas; and Empress, played by Rachel Raney, a junior psychology: pre-counseling major from Tecumseh, Okla.
The production crew includes JemiJean Jones, a sophomore from Del City, Okla., as assistant director; Chloe Stringfellow, a sophomore from Calera, Okla., as stage manager; Taunia Logan as costume designer; Megan Lauchner, a senior from Vinita, Okla., as makeup designer; Brandon Roye as scenic designer; Rebekah Byland, a sophomore from Shawnee, Okla., as sound engineer; Jonathan Studstill, a senior from Arlington, Texas, as lighting engineer; and Stephanie Smith, a junior from Shawnee, as prop manager.
Tickets are on sale for $8 for adults, $6 for students and $2 for children under age 12. Located in Sarkeys Telecommunication Center, the OBU Box Office is open Monday-Friday from 9 a.m. to 4:30 p.m., or call (405) 878-2347.
The Theatre for Young Audiences production has been an annual event on the OBU campus since 1993. Each spring, about 2,300 Shawnee-area students attend matinee performances of the production. OBU Theatre seeks to present plays designed to entertain and inspire younger audiences in the art of live theatre. Plays are chosen for the values in their themes, including honesty, integrity and preparing young people to recognize the good and evil of the world.