Senior Jonathan Bell to Present Senior Art Show
February 28, 2011
Although he said his passion is to serve as a minister to youth, OBU senior Jonathan Bell has created work which testifies that he is a gifted artist as well.
OBU will host a series of campus art shows from March through May, the first which will showcase Bell's artwork March 4-10 in the art building gallery. The display will be available for viewing from 9 a.m. to 5 p.m.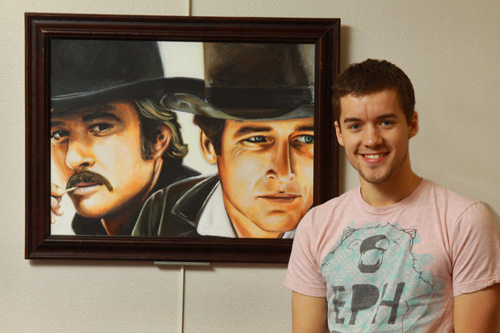 Bell is a senior Bible major from Anthem, Ariz., but he originally hails from Newcastle, England. Although Bell is a talented artist, preparing for youth ministry is the target of his time at OBU. He said he has a passion for discipling young adults and impacting their lives.
"I want to disciple students, life on life," Bell said. "I want to see them grow in passion and wisdom so that by the power of the Spirit they can change this world by living in it but not being of it."
His artwork, on the other hand is "a side passion, it's more like some good 'R and R'," he said.
Bell said he receives his inspiration from aspects of everyday life, and he is generally inspired by those who are at the top of their craft.
"Inspiration can come from anywhere," he said. "A poster, a movie, a song, photograph, painting, album cover, TV show, commercial -- anything that invokes a response be emotional or aesthetic."
He is hopeful, he said, that those who view his works of art will get to know him a little better.
"I'm deeply proud of all of my work," he said. "Some of it is deeply personal, some superficial, but all of it is something I'm happy to put my name on. I'm extremely excited about displaying my work, as I'm sure all this year's senior art majors are about their own work."
For more information about studying art at OBU, click here.