OBU Board Vice Chair Alan Day Dies
February 16, 2011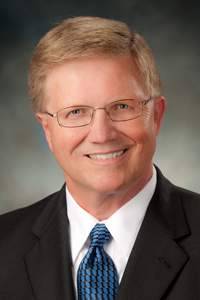 Oklahoma Baptist University trustee Alan Day died in a motorcycle accident in Edmond, Okla., late Wednesday afternoon, Feb. 16. Dr. Day was 62. He had served as pastor of the First Baptist Church of Edmond for 25 years.

"Alan Day was a consummate Baptist statesman," said OBU President David W. Whitlock. "He had a pastor's heart and a servant's spirit, which was demonstrated in his love for his church family and his leadership role in the Edmond community. His warmth and caring were so strong that they sometimes overshadowed his keen theological mind. He was a student of God's Word and an innovative communicator of biblical truth."

Born in Bogalusa, La., Day had been a pastor since 1968, serving at churches in Louisiana, Texas, Mississippi, and Oklahoma. He earned a bachelor's degree in history and Bible from Louisiana College. He completed M.Div. and Th.D. degrees from New Orleans Baptist Theological Seminary.

Day served multiple terms on the OBU board of trustees. He was elected to his current four-year term in 2009 and was serving as vice chair of the board during the 2010-11 year. He would have succeeded Dr. Reagan Bradford Sr., current board chair, in the 2011-12 year.

"The trustees of Oklahoma Baptist University who have served alongside Dr. Alan Day were shocked and deeply saddened to learn of his untimely and tragic passing," Bradford said. "His fellow trustees have recognized his valued leadership, and also regarded him highly as a Christian co-worker and friend who was characterized by his gracious manner. During his 25-year tenure as leader of First Baptist Church of Edmond, he has pastored a number of past and current OBU students. This experience reflected in his role as OBU trustee has contributed significantly to ensuring OBU's success in fulfilling its mission of providing a Christian education that represents a sound framework for young adults as they undertake their future endeavors. Truly he will be missed. Our prayers are for God's special comfort and consolation for Alice, his wife, and family members, as well as his church family in the loss each has experienced."

"He was a strong advocate for OBU," Dr. Whitlock said. "He was a member of the committee which crafted OBU's mission statement in 2005, and was a part of the task force which carved out our core values in 2009. As we pursue our mission and embrace our core values, we will do so mindful of his involvement with those clear calls for OBU to be about Christ-center higher education."

Day was scheduled to deliver OBU's 2011 Founders' Day Address on Feb. 9. The event was postponed due to winter weather. He was working with university officials to reschedule the address, which was titled "Christian Higher Education in the 21st Century."

"Oklahoma Baptists and Southern Baptists have lost a dear and precious friend in Dr. Alan Day," said Dr. Stan Norman, OBU provost. "To me, Dr. Day embodied the traits that all our pastors and denominational leaders should emulate. He possessed one of the most gifted minds in Southern Baptist life today.

"On a personal level, Alan was a close friend and avid supporter," Norman said. "We shared a mutual interest in Baptist higher education, and many of our conversations focused upon matters relating the Christian faith to learning."

Day served on numerous associational and state committees within the Baptist General Convention of Oklahoma. He was a member of the tellers committee for the 1991 Southern Baptist Convention. He is a former trustee of Southern Baptists' International Mission Board, serving on the IMB mission personnel committee for 1996-98, and as vice chairman of trustees from 1998-2000.

Day was involved in many local programs. He was a member of the Edmond Chamber of Commerce and had served on the board of directors for Centris Medical Center in Oklahoma City.

Day and his wife, Alice, were married in 1969. All four of their children attended Oklahoma Baptist University. They are Charis, '93; Cheyne, ex '94; Richard, ex '94; and Aaron, '96. Day also is survived by six grandchildren.

"Alan is a respected leader among Southern Baptists, but for those who were blessed to call him friend, he will be most remembered for his exemplary roles of husband, father and grandfather. Our hearts are with Alice and the Day family as they go through a deep valley of sorrow," Whitlock said.