Nine Students Featured In Annual Concerto-Aria Concert
February 11, 2011
OBU's 37th annual Concerto-Aria Concert will feature the musical gifts of nine students who will perform with a full orchestra Sunday, Feb. 20. The concert will begin at 8 p.m. in Raley Chapel's Potter Auditorium. The public is invited to attend the free event.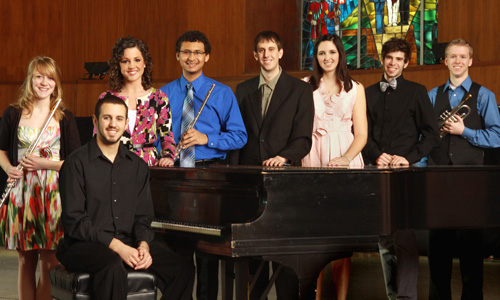 Eight OBU students who will perform during the 37th annual Concerto-Aria Concert on Sunday, Feb. 20, include (from left) Chelsea McQuigg, Brenden Laughlin, Sarah Stephens, Andre Jones, Jonathan Hamrick, Kaitlin Slothower, Griffin Maxwell and Kade Goforth.


Student soloists are selected by audition. This year's concert will feature four vocalists: Kaitlin Slothower, a freshman soprano from Edmond, Okla.; Griffin Atticus Maxwell, a senior baritone from Enid, Okla.; Mariah Saffa-Gilcrease, a high school senior soprano from Jenks, Okla.; and Sarah Stephens, a sophomore soprano from Tulsa, Okla. Jonathan Hamrick, a senior from Albuquerque, N.M., is the featured composer.

Four instrumentalists will also be featured: Chelsea McQuigg, a sophomore flutist from Miami, Okla., Andre Jones, a junior flutist from Lawton, Okla.; Kade Goforth, a senior trumpeter from Tulsa; and Brenden Laughlin, a junior pianist from Rio Rancho, N.M.


Mariah Saffa-Gilcrease
OBU's Division of Music hosted a Concerto-Aria Concert competition for high school seniors -- with a prize including a $4,000 scholarship and a $500 cash award -- on Dec. 4. Saffa-Gilcrease won the competition and earned an opportunity to perform with an orchestra during the Feb. 20 concert. The Concerto-Aria Concert has been a musical highlight at OBU for 36 years, but this is the first year OBU hosted a competition for high school students.

The conductor of the concert is Dr. James Vernon, professor of music at OBU. Vernon teaches courses in music composition, music theory and fine arts. He also serves as musical director of the Bisonettes, OBU's Women's Glee Club. He has composed works for instrumental, choral and vocal idioms, as well as music for stage play productions. Twice honored with the Distinguished Service Award from OBU, Vernon was awarded the Promising Teacher Award in 1994, the Distinguished Teaching Award in 2005, and the Meritorious Service Award in 2009.

A pre-concert lecture will begin at 7 p.m. in Raley Chapel room 203E. OBU students Emily Rowland, Valerie Hunt and Sara Elliott will introduce the selections to be performed during the concert along with background information to assist the audience in listening to the event. Rowland is a senior piano performance major with pedagogy emphasis from Bartlett, Tenn.; Hunt is a senior music education major with instrumental emphasis from Peoria, Ariz.; and Elliott is a senior music education major with instrumental emphasis from Bartlesville, Okla.

Following the concert, a reception in the Geiger Center will honor the soloists.

For more information about the Concerto-Aria Concert, contact OBU's Division of Music at (405) 878-2305 or music@okbu.edu.