Mozart's Timeless 'Figaro' Opens Feb. 25
February 21, 2011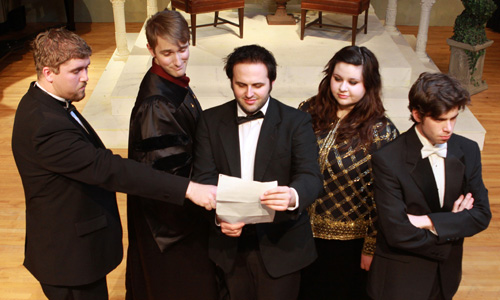 In Mozart's timeless opera, "The Marriage of Figaro," presented by OBU Opera Theatre, Marcellina, Bartolo and Basilio arrive to speak with the Count about a debt Figaro owes Marcellina. The debt could prevent Figaro's impending marriage to Susanna and instead force him to marry Marcellina.

OBU's "Figaro" cast includes (from left) Casey Flynt as Don Bartolo; Peter Purin as Don Basilio; Jeff Foresee as the Count; Courtney Bryant as Marcellina; and Griffin Maxwell as Figaro.

OBU Opera Theater will present "The Marriage of Figaro," for five nights: Feb. 25-26 and March 3, 4 and 5. All performances will be sung in English. The opera will begin at 7 p.m. in Raley Chapel's Yarborough Auditorium. Tickets are $10 for adults and $5 for students and will be available at the door.