Heaven's Rain' Subjects Speak on Forgiveness
February 18, 2016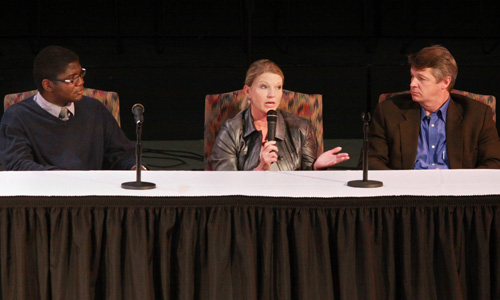 Leslie Douglass (center) and Brooks Douglass (right), whose lives are depicted in the movie "Heaven's Rain," share their remarkable journey to forgiving the man who killed their parents during a home invasion in their youth. The sister and brother joined a panel discussion following a showing of the movie at OBU on Tuesday, Feb. 15. The panel also included OBU faculty members Dr. Louima Lilite (left) and (not pictured) Dr. Brian Camp, Dr. Scott Pace and Dr. Nicole Warehime. The discussion was facilitated by Dale Griffin, OBU dean of spiritual life.

The movie was shown as part of OBU's annual "Focus Week," dedicated to helping members of the OBU community strengthen relationships. This year's Focus Week theme was "Building Strong Relationships through Faith, Hope, Love and Forgiveness."

For more information about "Heaven's Rain," click here. Through the website, interested viewers can request the movie be shown in their community.