David's Creed to Lead Worship in Shawnee-Area Churches
February 8, 2011
OBU's praise ensemble, David's Creed, will lead worship in music at three Shawnee-area churches in February. 

The band will lead worship at Rock Creek Baptist Church in Shawnee, Okla., on Sunday, Feb. 13, during the 10:45 a.m. worship service. The community is invited to attend. Rock Creek Baptist Church is located at 44900 Hardesty Road in Shawnee.

Sunday evening, Feb. 13, the band will play during a Valentine's banquet at Countryside Baptist Church in Newalla, Okla.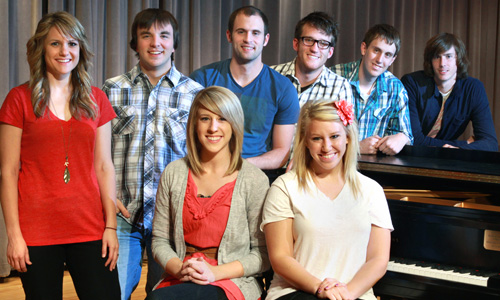 The band includes (back, from left) Courtney Tice, Sean Muzljakovich, Lucas Simmons, Parker Jackson, Jonathan Hamrick, Jared Huckabee, (front, from left) Sarah Graham and Karlie Clifford.



David's Creed is slated to lead worship on Wednesday, Feb. 23, at Pink Baptist Church during its 7 p.m. service. The church is located at 30269 Hwy. 9 in Tecumseh, Okla., and the community also is invited to attend the service which will focus on "Youth Revival Night."

The nine-member band, along with director Dr. Casey Gerber, travels during the academic year to lead worship in churches across Oklahoma. David's Creed takes a contemporary approach to leading worship. With three vocalists, a vocalist/acoustic guitarist, a bass player, a percussionist, a lead guitarist and a pianist, the band mixes contemporary music with traditional hymns. The repertoire allows the group to minister in churches with different styles of musical preference.

For more information about David's Creed, contact the OBU Division of Music at (405) 878-2305 or click here.