Shawnee Honor Choir Selected for State Performance
January 14, 2011
The Shawnee Honor Choir, part of the Young Singers of Central Oklahoma in OBU's Music Preparatory program, has been chosen to perform at the Oklahoma Music Educators Association State Convention at the Holy Family Cathedral in Tulsa, Okla., on Thursday, Jan. 20, at 4:30 p.m. The choir is an auditioned group of 38 third- through seventh-grade students representing 15 schools in Shawnee and the surrounding area.

Two elementary choirs are chosen statewide to perform at the Oklahoma Music Educators Association convention. A panel of judges listens anonymously to all the recordings submitted by the interested groups, and then they rank them according to artistic merit. Following judging, invitations to perform are extended by the OMEA executive board. The judges base their decision on the general musical artistry of the group including such elements as beauty of tone and tuning, quality of repertoire, artistic singing, beauty of expression, technical accuracy and diction.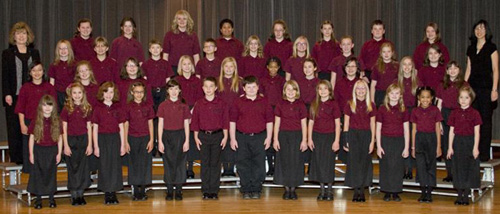 The Shawnee Honor Choir has been selected to perform at the Oklahoma Music Educators Association State Convention in Tulsa, Okla., on Jan. 20. The choir is part of part of the Young Singers of Central Oklahoma in OBU's Music Preparatory program.



In its 28th year, Shawnee Honor Choir has been directed for 21 years by Conchita Hansford, director of the OBU Preparatory Department and assistant professor of music. Dephanie Lilite serves as the choir's accompanist. This is the fifth year the choir has been selected to perform at the OMEA state convention; under Hansford's direction, the choir has performed at the convention in 1997, 2004, 2007 and 2011. The choir performed at the convention prior to 1990 under the direction of Marilyn Wood.

"Being chosen to perform at the state music educators' convention is truly an honor for our students," Hansford said. "The children must demonstrate a tremendous work ethic and a high degree of self-discipline in order to achieve the level of accomplishment required to be selected for this musical distinction. I count it a privilege having the opportunity to direct such an outstanding group of young children. We are excited to present our music to the teachers of Oklahoma."

The choir's OMEA performance will include "A Joyful Song" by Mary Lynn Lightfoot; "Bim Bam," a Hassidic song arranged by Shirley W. McRae; "Lord of the Dance," a Shaker melody adapted by Sydney Carter and arranged by John Rutter; "Marchin' with the Saints!" arranged by Greg Gilpin; "Will You Teach Me?" by Victor C. Johnson; "Three Quotes by Mark Twain" by Andrea Ramsey; "The Moon" by Andy Beck; and "Lightning!" by Greg Gilpin.

The children in Shawnee Honor Choir study and perform a wide variety of music ranging from simple unison songs to the more challenging two- and three-part choral treble literature. The choir also involves playing Orff instruments, hand chimes and rhythm instruments. The choir performs annually in 12 area schools, presents two formal public concerts, and frequently presents programs at community events. The choir practices on Tuesday afternoons from 3:30-5:15 p.m.

"It is my basic philosophy that every child needs to learn to sing because it is a lifelong experience with a lifetime of benefits -- a wonderful way to bring beauty as well as music into our lives," Hansford said.

Members of Shawnee Honor Choir include Sabrina Bartley, Montrey Bond, Michael Bowden, Abbey Brunson, April Brunson, Catherine Burgess, Alexis Capron, Cassidee Capron, Skyla Cornett, Connor Eaton, Mikayla Fest, Molly Fisher, Evie Griffin, Graham Griffin, Parker Hammons, Jessica Hankins, AJ Higgins, Becca Kisch, Abigail Lilite, Makenzie Mason, Alexis O'Neil, Alexia Peters, Kaylan Posey, Caleb Richards, Johnathon Richardson, Angelina Ropp, Emily Sconyers, Ashley Smith, Macava Smith, Hannah Starinieri, Annika Stephens, Ginny Stewart, Parker Terrell, Olivia Vanbebber, Olivia Wilkinson, Andrea Wood, Emily Yoakum and Lauren Yoakum.

Schools represented in Shawnee Honor Choir include Grove School, home school, Jefferson Elementary, Liberty Academy, McLoud Middle School, Meeker Elementary, New Lima Middle School, North Rock Creek School, Prague Elementary, Prague Middle School, Sequoyah Elementary, Shawnee Middle School, Sooner Elementary, Strother School and Will Rogers Elementary.

OBU sophomore music majors Ashlyn Streck and Dana Ward serve as music assistants with sectional rehearsals on a regular basis. Honor choir mom is Kim Fest.

Children in the Shawnee area and nearby communities are invited to audition to join the spring semester of the choir. For more information about OBU's Music Preparatory Department, visit the Prep Department webpage, call (405) 585-4329 or email prep@okbu.edu.