OBU:EYE Imparts Truth about Bison Hill
January 13, 2011
Hidden deep in the recesses of a top-secret location on Bison Hill, OBU's OBU:EYE force provides a "veritable clearinghouse" of truth to answer prospective students' most daunting questions about studying at OBU. Led by Dr. Edwina Haskell, OBU:EYE force is comprised of covert student operatives who help determine fact from fiction for future bison.

While OBU:EYE force is not a real undercover group, the OBU admissions office has provided a series of three-minute videos truly aimed at answering prospective students' most pressing questions. 

The videos represent the questions and statements of concern most-often asked to Bison Hill admissions counselors as they interact with high school students. They include: "I can't afford to go to OBU"; "Do I need to wait to send my test scores to OBU?"; "Do I have to pay out-of-state tuition at OBU if I'm not from Oklahoma?"; "I am not majoring in Bible or religion, so OBU is probably not for me"; "The town of Shawnee is too small" and "Small schools do not offer as much as larger schools."

"We compiled a list of the questions or concerns we hear most often from prospective students, then tried to find a creative way to provide answers," said Bruce Perkins, OBU director of admissions. "OBU: EYE is unlike many college admissions videos. It is a bit of a spoof of the current investigative television shows, and offers a slightly eccentric host. We anticipate that 'Dr. Haskell' will be present at many of our major on-campus events for prospective students, giving this series an added, personal touch."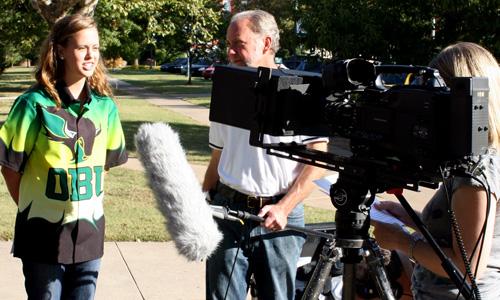 OBU student Kirsten Stukey, a junior biology major from Broken Arrow, Okla., talks about OBU's 84 fields of study in an OBU:EYE video.

Perkins said the OBU: EYE website offers several resources beyond the video clips. Students can post questions, and also track online answers to new inquiries.

"We have found that many students make assumptions about whether or not OBU is the college for them," Perkins said. "It is crucial, when making a decision as important as the college choice, that you collect as much data as you can. OBU: EYE helps in that process."

Maintaining the show's premise, Perkins said questions also can be sent directly to edwina.haskell@okbu.edu

"Students will get answers," he said. "That is our main goal with this video series."