OBU Donates Desks to Area Schools
January 13, 2011
With consideration of how current economic woes have strained small-school budgets, OBU employee Tina Stackhouse saw a monumental 216 unused desks as an opportunity to engage the community with a gift. Four schools in Pottawatomie County -- Asher, Macomb, Maud and Pleasant Grove -- are receiving the donated desks.

Stackhouse, who attended Pleasant Grove as a child, serves as facilities management supervisor at OBU. She said the facilities management staff has become keen to opportunities to donate used furniture from campus where it can best be used in the community. Recently, used sofas were donated for use at a local rescue mission.

"Because of the consistent reduction in state funding and a growing student population, the donation of these desks comes at an ideal time," said Terry Grissom, superintendent of Asher Schools. "We appreciate OBU's generosity."

The desks are coming from the upper level of Montgomery Hall, which is being remodeled on the OBU campus. In the new plan, the desks no longer will be needed.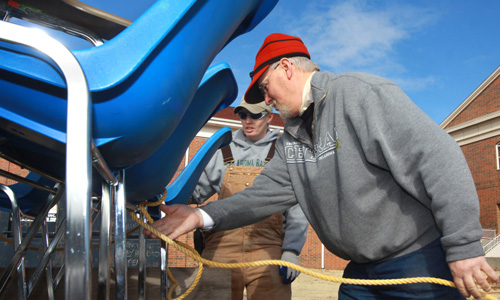 Tina Stackhouse (left), facilities management supervisor at OBU, and David Shivers, dean of students and a teacher at Pleasant Grove School in Shawnee, load desks that will be used in the school's multi-purpose room.

Arlene Burton, superintendent of Pleasant Grove School in Shawnee, said the school will use the desks in a multi-purpose room where classes are taught by counselors and nurses. She said they will replace chairs and tables previously used in the space. Burton expressed appreciation that one of Pleasant Grove's former students would consider how to best use the resource to benefit others.

"I'm very pleased that OBU had an opportunity to assist local schools through the donation of equipment," said Randy Smith, executive vice president for business and administrative service. "The thought that we could help these schools in their mission is gratifying. I'm grateful to Tina Stackhouse for bringing this opportunity to the OBU administration's attention."

According to the National Furniture Bank Association, more than 1 million pieces of furniture are donated annually in the United States. Online websites offering advice about furniture donations report the act also helps the environment by keeping usable furniture out of landfills.