David's Creed to Lead Worship Jan. 30 in Bethany
January 14, 2011
OBU's praise ensemble, David's Creed, will lead worship at Council Road Baptist Church in Bethany, Okla., on Sunday, Jan. 30, during the morning worship services. The community is invited to attend.

Council Road Baptist Church is located at 2900 N. Council Road, Bethany, OK 73008. The morning worship services begin at 9:15 a.m. and 10:45 a.m.

The band is also slated to perform Jan. 24 during the Baptist General Convention of Oklahoma's State Evangelism Conference at First Baptist Church in Moore, Okla.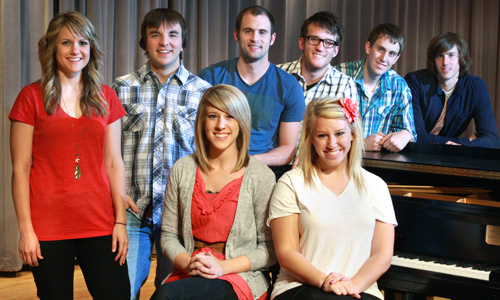 David's Creed, OBU's praise ensemble, will lead worship at Council Road Baptist Church on Sunday, Jan. 30. The band includes (back, from left) Courtney Tice, Sean Muzljakovich, Lucas Simmons, Parker Jackson, Jonathan Hamrick, Jared Huckabee, (front, from left) Sarah Graham and Karlie Clifford.

The nine-member band, along with director Dr. Casey Gerber, travels during the academic year to lead worship in churches across Oklahoma. David's Creed takes a contemporary approach to leading worship. With three vocalists, a vocalist/acoustic guitarist, a bass player, a percussionist, a lead guitarist and a pianist, the band mixes contemporary music with traditional hymns. The repertoire allows the group to minister in churches with different styles of musical preference.

The auditioned praise ensemble was started by the OBU Division of Music in spring 2007. Its primary purpose is to connect OBU with the churches in Oklahoma and the surrounding region by serving those churches in worship through music, testimony and God's Word.

Members of the 2010-11 David's Creed band include Courtney Tice, a senior voice major from Oologah, Okla., on vocals; Sarah Graham, a senior voice major from Ponca City, Okla., on vocals; Karlie Clifford, a sophomore education major from Oklahoma City on keyboard; Parker Jackson, a senior religion major from Ozark, Mo., on bass; Jared Huckabee, a junior interdisciplinary major from Rockwall, Texas, on drums; Jonathan Hamrick, a senior music theory and composition major from Cedar Crest, N.M., on electric guitar; Sean Muzljakovich, a junior worship arts major from Bartlesville, Okla., on vocals; Lucas Simmons, a junior English major from Weleetka, Okla., on acoustic guitar; and Chance Ballard, a senior philosophy major from Lawton, Okla., on sound.

Gerber, assistant professor of music education, is coordinator of vocal music education at OBU. He teaches methods courses, supervises student teachers and conducts the Young Singers of Central Oklahoma in the OBU Preparatory Program.

A native of Weatherford, Okla., Gerber earned bachelor's and master's degrees from Southwestern Oklahoma State University and his doctorate from the University of Mississippi. He has also completed level I training in the Orff-Schulwerk method of music education at Southwestern Oklahoma State University and level III training in the Kod