Christian Apologist Broadens Students' Worldviews
January 20, 2011
Christian apologist Mary Jo Sharp invested in the lives more than 100 OBU students during the university's January Term, challenging them to broaden their personal perspectives and engage the world around them with their faith.

Sharp, a certified apologetics instructor with the North American Mission Board of the Southern Baptist Convention, led part of the course titled, "Christian Worldview." Sharp presented three lectures, each three hours long, on Mondays in January. Students then attended three additional hours of class taught by OBU professors during the week. The class discussions focus on the readings of the course textbook "The Universe Next Door" by James Sire.

A former atheist from the Pacific Northwest, Sharp said she used to think religion was for the weak-minded. She became a believer in God after reading through a Bible given to her by a high school teacher. Two years later, she professed Jesus as her Savior. She said she desires to challenge people to provide reasons for why they believe in whatever they believe -- a challenge she gave OBU students firsthand. She encouraged the students to ask the hard questions about their faith and to find out what they really believe.

"She engages Christians and non-Christians alike on these issues on a weekly basis and is a wonderful model for our student to share the Christian faith with others in an intentional, informed, courteous and persuasive manner," said Dr. Mark McClellan, dean of the Joe L. Ingram School of Christian Service. "She demonstrated to us how to share with clarity and compassion instead of caricature. She taught our students to do more than merely asking questions. She pointed them to answers."

The course, offered free to all freshmen, is designed to assist each student in the development of biblical and theological foundations to understand a Christian view of reality and how to interpret it -- called a worldview. McClellan said the course emphasizes the essential biblical truths a student needs for developing a Christian understanding and approach to all learning, and the essential role that worldview plays for the student to both understand and work in contemporary culture.

"The main thrust of the course is to give students an understanding that their view of the world will guide and direct their actions in this life," Sharp said, discussing her lectures at OBU on her blog titled "Confident Christianity."

"It is also to give them an awareness of what the various worldviews teach and to test those worldviews against reality: empirical facts, experiences, practical results, coherency, etc. However, this course is at a Christian university and so the final theme is the implication of the Christian worldview."

Sharp shared with OBU students four aspects of talking about their worldview. She said each person must be able to know, listen, question and respond when engaging others in discussions about faith.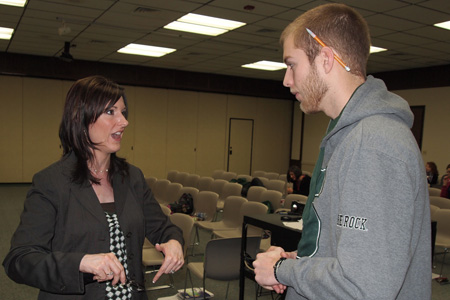 Christian apologist Mary Jo Sharp (left) answers a question from OBU student Neal Ellis, a sophomore applied communications major from Midlothian, Texas.

"This is not ground-breaking stuff," Sharp told the students during a lecture. "If anything, I want to remind you of who you are. You are called as a Christian to engage with your community. That's part of the Great Commission."

She said it is vital for each person to know what they believe because in society today, disbelief is seen as a virtue and belief is seen as a vice. Skeptics, she told the students, are often thought to be smarter than a person who has a studied position.

"In a day when many talk as though truth cannot be known, but live as though truth is known, it is a critical time in our history to hold people accountable for beliefs and remind them that a view of the world that is viable must be livable," she said on the blog.

OBU students in the course gained a general idea of different cultural worldviews -- naturalism, pantheism, the New Age, emerging postmodern views and Islam, among others -- and contrasted them against the question of evil. They also learned how to discuss with people about their personal ideas and beliefs, shifting the burden of proof from the Christian to the person with an alternate belief.

"It was really nice to gain some insight from Mrs. Sharp," said Neal Ellis, a sophomore applied communications major from Midlothian, Texas. "Having experts in any field come to OBU is always exciting, and to have nine hours to learn from her was really great."

Sharp earned a bachelor's degree in music from the University of Oklahoma and a master's degree in Christian Apologetics from Biola University in La Mirada, Calif. She is a member of the Evangelical Theological and Philosophical Society.