AT&T Contributes $15,000 to Learning Communities Project
February 20, 2011
The "world's largest telecommunication provider" has bolstered a new OBU student program designed to strengthen small learning communities.

AT&T presented a $15,000 contribution to OBU's Learning Communities Project during a meeting on the university's Shawnee campus Jan. 14. The gift, through the AT&T Foundation, will support the program which was created to help students succeed in their college careers.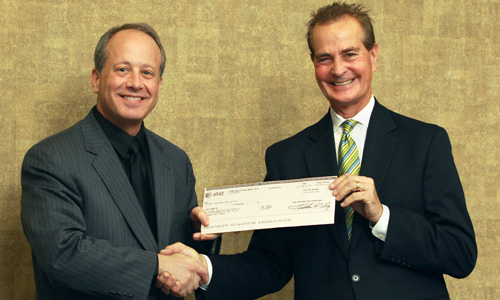 Jerry Bayliss (right), AT&T's external affairs area manager, presents a check for $15,000 to OBU President David Whitlock to benefit OBU's Learning Communities Project. The project was created to help students succeed in their college careers.

"The investment AT&T has made in our students will have a lasting impact for them," said OBU President David Whitlock, who accepted the contribution from Jerry Bayliss, AT&T's external affairs area manager.

"It's all about investment," Bayliss said. "We try to give back to our communities. We are glad to be able to be involved in this worthwhile organization."

OBU launched a pilot program with four Learning Communities during the 2010 fall semester. Each community included approximately 16 students.

"We know from national research that student engagement is one of the most important aspects of student's success and persistence," said Monica Mullins, OBU's director of student success. "One of the best ways to help them be engaged is through learning communities where they are enrolled in three or four classes together. We will continue to track them and monitor their progress and success."

Early indicators of the program's success are very encouraging, Mullins said.

"We anticipate 96.9 percent of these students will be back in the spring semester. That is better than the university's historic percentage, which is in the mid-80s."

Each OBU learning community was engaged in a community service project during the fall semester. Mullins said the projects had to be completed in the Shawnee community.

"Being able to do some programming where they are spending time with their professors outside the classroom and where they are engaged in the community" is very beneficial, she said.

"This contribution will enable us to grow this program in the future and make it a really vital part of our campus," Mullins said.

During the meeting, Shawnee Mayor Linda Peterson read a proclamation declaring January 14 as "AT&T Day" in the city.

"We want to thank you for your assistance in a program for OBU and for the City of Shawnee, which does help this community grow and be more successful," she said.

"To continue this kind of community involvement in learning is very important to the City of Shawnee," Peterson said. "It takes all of us to be a part of these programs."