Historic Rock Wall Dismantled, Saved for Posterity
December 14, 2010
Drivers along Shawnee's Kickapoo Street saw the dismantling of a notable fixture on OBU's campus in mid-December as the rock wall which ran along the East border of the campus was removed to accommodate the widening of one of Shawnee's oldest avenues.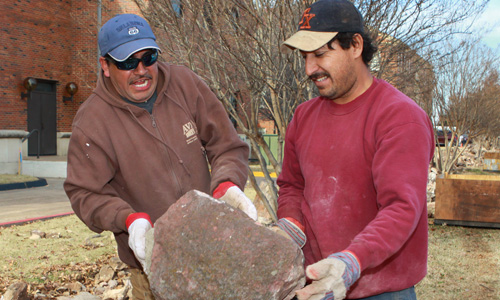 Freddy Abila (left) and Armando Berec, both from Shawnee, meticulously store elements of OBU's rock wall for future use. Agreement between OBU and The City of Shawnee resulted in the wall, a gift of OBU's Class of 1935, moving to accommodate the widening of Kickapoo Street.

However, elements of the historic rock wall are being carefully stored to be reused in OBU's Campus Master Plan. The plan spans projects slated for the next several decades as OBU prepares its 100-year-old campus for continued growth. As a part of the master plan, portions of the wall will be reconstructed along the north and south boundaries of University Street, between Kickapoo and Airport Road.

University officials said relocation of the wall was necessary for the Kickapoo expansion to a five-lane road. Initial work with city planners included a design which would maintain the historic wall, but that would have resulted in a narrow separation between the wall and the street. Continued discussions led to the plan for OBU to remove the rock structure. As part of the agreement, Shawnee will move existing overhead utility lines underground.

"The rock wall has been part of our campus for 75 years, and we did not want to move it," said Randy Smith, OBU executive vice president for business and administrative services. "However, as we studied all options, it was clear that moving the wall would help to accommodate growth for our community.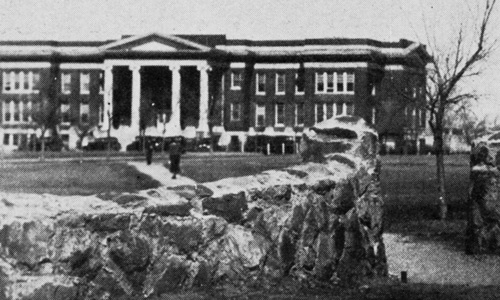 The rock wall at OBU, shown here with Shawnee Hall in the background, has stood on Bison Hill for most of the school's history. Given as a gift of the Class of 1935, it predates many of the major buildings on campus.

"We are very pleased that the overall project will include moving utility lines underground," Smith said. "That will beautify the roadway and shield power lines from weather-related problems."

Workers meticulously saved the rocks of the wall, which originally was a gift to the university from the Class of 1935. OBU's graduating seniors have gifted the university through the years with items ranging from furniture to life insurance policies to signage. Many of these memorials remain to be enjoyed by visitors to the campus today.