Gary Underwood: Drawn by Glee, Guided by Grace
December 9, 2010
The Profile in Excellence award is given by the OBU Alumni Association to a former student who has "demonstrated recognizable accomplishment in his or her profession, business, avocation, or life service in such a way as to bring pride and honor to the University." Each year, Profile In Excellence recipients are featured in OBU Magazine.
When Gary Underwood was a youth, he was drawn to Bison Hill. He would eventually grow to appreciate the liberal arts courses offered in a distinctively Christian setting. He would one day know the personal and professional value of the friendships and networks built on campus. From ministry in music to directing media for a governor, he would realize the possibilities founded on a strong education. But in all honesty, it was the Bison Glee Club that enamored a young Underwood and led him to OBU, where he graduated in 1976.
"I had a cousin who was like a brother -- Richard Hogue -- who was in the Glee Club," Underwood said. "Early in my teenage years I wanted to go to OBU, wanted to be a music minister and wanted to be in the Glee Club."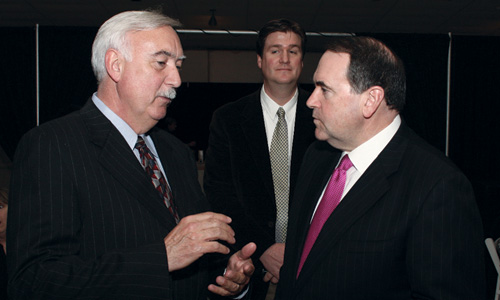 Gary Underwood (left) visits with Mike Huckabee at a recent Sherwood, Ark., Chamber of Commerce banquet. Underwood, a 1976 OBU graduate, received the Profile in Excellence Award at OBU's Centennial Homecoming, Nov. 12-13, 2010. The award is given by the OBU Alumni Association in recognition of service and leadership.
Underwood fulfilled his entire plan, even beginning his ministry in music while still a student at OBU. He served as part-time minister of music and youth at Trinity Baptist Church in Enid, Village Baptist Church in Oklahoma City, and Temple Baptist Church in Shawnee.
Arriving on campus as a freshman, Underwood was awed by the greeting -- traditional at the time -- in Raley Chapel: a professor pounded out dirges on the organ and the building erupted with hollers and cheers from upperclassmen filling the balcony. Underwood thought it was incredible. What he greatly feared was failing to make it into the revered men's choral group. But he found encouragement during Welcome Week. While singing the alma mater, an upperclassman told him, "You've got to try out for the Glee Club." He made it, and was soon rehearsing under direction of the legendary Dean Warren M. Angell.
"I probably learned more from Dean Angell than anyone, without ever having a class from him," Underwood said. "The Glee Club rehearsals were learning experiences," including Angell's drive for excellence and a focus on tradition and brotherhood. Underwood said Angell believed there was no higher calling than serving in a local church.
Underwood took that belief to heart. The day he graduated, he and his wife, Susan, moved to Gallup, N.M., so he could serve as minister of music and youth at First Baptist Church. Three years later, he became minister of music at Emmanuel Baptist Church in Farmington, N.M. During his time in the Land of Enchantment, Underwood directed the Singing Churchmen of New Mexico.
"I felt very comfortable graduating and going directly to church ministry," Underwood said. "I felt prepared to do my job and fulfill my calling."
In 1981, Underwood moved to Arkansas as minister of music, media and youth at Elmdale Baptist Church in Texarkana, where he transitioned to focus solely on music and media. He became associated with the ACTS Network, working on one of the first affiliates in Arkansas. The first affiliate in the state was at Immanuel Baptist Church in Pine Bluff, Ark., where Mike Huckabee served as pastor. Underwood and Huckabee began associating on a state level regarding media in ministry.
Huckabee moved to Texarkana, Ark., in 1986, where he served as pastor of Beech Street Baptist Church. He immediately began building a cable television station which was soon up and running 24 hours a day. Huckabee established and became president of Beech Street Communications. Underwood was called as minister of media at the church in 1988, where he served until 1996. He also became executive vice president of Beech Street Communications.
Underwood also was a trustee of the Southern Baptist Radio and Television Commission. He served as an "incorporator," assisting in merging the RTVC and the Brotherhood Commission with the Home Mission Board during a time of transition in the national convention.
In 1989, Huckabee was elected president of the Arkansas Baptist Convention. During his two-year tenure in that position, people encouraged him to seek public office. He ran for a U.S. Senate seat in 1992, but was defeated. However, that same year, Bill Clinton was elected President of the United States. Arkansas lieutenant governor Jim Guy Tucker became governor. Huckabee ran for -- and won -- the seat of the lieutenant governor.
In 1996, Huckabee decided to pursue the Senate once again, and he was leading the polls. Governor Tucker was convicted of felony fraud charges connected to the Whitewater investigation, and said he intended to resign. Huckabee abandoned the Senate race, and prepared to take the reins as governor. Then came July 15, 1996, what Underwood describes as "a very bizarre day." Moments before Huckabee was set to be sworn into office, Tucker rescinded his resignation. Hours later, the issue was settled, and Huckabee became governor.
"When Mike found out he was going to be governor, he called and told me that he wanted me to come to Little Rock to be on his staff," Underwood said. "He said he didn't know what the title would be, but my charge was: 'Find ways to help me get my message out directly to the people.' We also knew we needed to deliver our message unfiltered, so we worked hard to do that."
Underwood had only been involved in one campaign previously, when he did some work for Oklahoma Governor David Boren. That was for a different political party, but Underwood said what mattered to him was not the political affiliation. What mattered was that his pastor ran for office, and he believed the man brought a lot of integrity to the office.
Huckabee was elected to a full four-year term as governor in 1998, and was re-elected to another four-year term in November 2002. From 1996-2002, Underwood served as director of media operations for the Office of the Governor, State of Arkansas. In 2002, his office merged into a different agency, and he became deputy chief information officer/chief security officer for the State of Arkansas.
In 2004, Underwood became chief technology officer for the Arkansas Department of Information Systems. He managed human resources and communications. He was responsible for the statewide radio system and led in its change from analog to digital formats.
Following his time in state service, he returned to the local church, serving as video producer/service director at The Church at Rock Creek in Little Rock from 2007-08. He recently completed a stint as a partnership specialist for the U.S. Census Bureau, where he worked in a six-state region building relationships with people of influence in local communities. He currently works as director of business development for ABC Financial Services in Little Rock. He and his son, Kurt, operate Pinnacle Communications, an independent video production service. The Underwoods also have a daughter, Kerri.
For a man who recalls himself as a shy high schooler, on the fringes of his pack of friends, Underwood said attending OBU was the first time he felt forced out of his comfort zone, prepared for the unexpected.
"It was the first step toward me being thrown into a new situation and being able to relate," he said. "A desire to continually learn new things and excel at them, or at least succeed ... OBU took that to a whole new level."
Through ministry in music and media to managing a governor's political communications, Underwood has continued to discover innovative ways to stretch his education. And yet, through the years, he said his best friends in the world are Bison Glee Club members -- a fitting fulfillment for the desire of his youth.
Click the following link to view a full list of previous Profile in Excellence recipients.