Fifth Graders Learn about Cultures and Immigration
November 11, 2010
Fifth graders from Jefferson Elementary in Shawnee attended OBU's social studies project, titled "Coming to America -- A Study of Immigration and Citizenship," Wednesday, Nov. 10, in the Geiger Center on campus. 

Created by OBU teacher education students, the interactive children's museum provided the fifth-grade students hands-on learning centers about Ireland, Italy and Mexico, as well as what life was like for citizens of each of those countries when they arrived in the United States as immigrants.

For more than 20 years, OBU's Division of Teacher Education has hosted the semi-annual social studies project for local fifth-grade students. The project is created by students in Akin's course, "Elementary Social Studies Methods."

"This is important on several levels," said Dr. Jeanne Akin, professor of teacher education. "I find history comes alive for my students and helps them develop a passion for finding meaningful ways to make it come alive for their future students."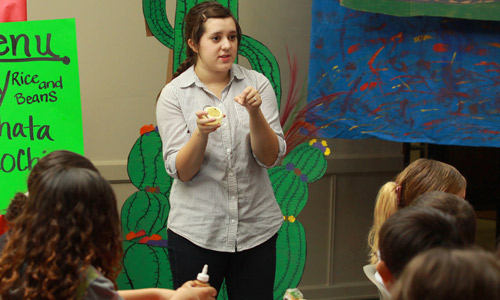 OBU junior Anna-Elyse Skaggs shows fifth graders from Jefferson Elementary in Shawnee how to do a craft representing the culture of Mexico during OBU's semi-annual Social Studies Methods project. Skaggs is an education major from Borger, Texas.

The project presented specific cultural aspects of immigrants' native homelands. Children learned why people would want to emigrate from their countries and the challenges they faced once they arrive in the United States. It also included a timeline representing the history of the United States and how immigrants through the years have helped shape it into a great nation.