Family's OBU Ties Transcend Four Generations
November 12, 2010
Bonds to Bison Hill are strong in the Needham/Frymire family. Although the Frymires live 1,200 miles from Shawnee, Okla., in Lava Hot Springs, Idaho, their family remains connected to OBU. Four generations of the family have attended the university from early in the 20th century to current freshman Timothy Frymire, who arrived on campus in time for OBU's Centennial Celebration.

Martha Fae Frymire, who received a bachelor's degree in education from OBU in 1971, recently recalled her time on Bison Hill. She talked about her ancestors who initially attended the university, and she shared the long list of relatives in later generations who followed in their footsteps.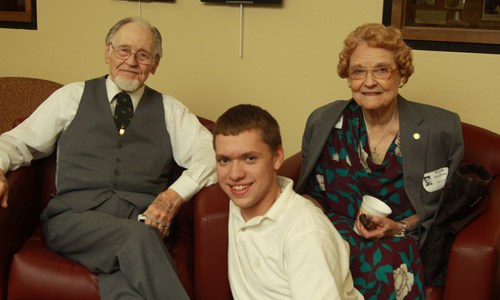 OBU freshman Timothy Frymire (front) spends time with his grandparents, Wyatt Needham ('50) and Mary Ida Needham ('48), on Bison Hill during OBU's Centennial Homecoming festivities. Frymire is the fourth generation in his family to attend OBU.

Her grandparents, Hattie Fae Robbins, from Blackwell, Okla., and Dr. H. Tom Wiles, from Missouri, began their family's legacy at OBU. Robbins wanted to become a teacher, even though in her day it was not common for women to attend college. However, she was only at OBU for one year (1918-19) due to finances.

Robbins and Wiles met at OBU and were married in 1923. Wiles graduated with a Bible degree in 1931. In 1946, OBU conferred an honorary doctorate on Wiles for his ministry and service to the people of Shawnee. He served as pastor of Immanuel Baptist Church in Shawnee in the 1940s. The couple's children -- Mary Ida, John Calvin and Bettie Fae -- attended OBU during that time.

Mary Ida Wiles graduated from OBU in 1948 with a bachelor's degree in English. She married Wyatt Needham Jr., a 1950 alum who graduated with a bachelor's degree in voice performance. While on campus, Needham was a member of the Bison Glee Club. He later served in music, education and youth ministry in churches in Oklahoma, Arizona, Texas and Missouri. In 2009, he performed with the Singing Churchmen of Oklahoma and traveled on their tour to Armenia at age 85.

Needham's sister, Wanda, earned a bachelor's degree in vocal education, K-12, at OBU in 1950, and she became a teacher. She met her husband, John Woods, at OBU. He later taught music at Southwest Baptist Theological Seminary in Fort Worth, Texas, and Southwest Baptist University in Bolivar, Mo.

Mary Ida Needham had said her fondest memories included legendary OBU professors William Thomas Short and Dr. James Newton "Uncle Jimmy" Owens. Having grown up in Shawnee, Needham had known the professors for years.


A Family Institution


Continuing the tradition established by Mary Ida's parents, the Needhams instilled a love for OBU in their five children: Martha Fae Needham Frymire, David Needham, Mary Sue Needham McNeal, Paul Needham and Paula Needham.


| | | |
| --- | --- | --- |
| | | |
| Mary Ida Wiles | Wyatt Needham | Martha Needham |


"My dad only speaks of one person at OBU: Dean Angell," Frymire said. "He had a profound influence on his life as a minister of music. His days in the Glee Club shaped his ministry. I heard stories about Dean Angel so much that I was shocked to get to OBU and learn that 'Dean' was not his first name, it was his title."

All of the Needhams' children attended OBU. In fact, four Needham siblings were on the OBU campus during the 1972-73 academic year, along with several cousins.

Martha Fae Frymire, earning her degree in 1971, was the first of her siblings to graduate.

"I knew it would be a good education, but I never realized how good," she said. "It prepared me for a master's degree in special education and years of service in that field."

She initially went to Idaho as a summer missionary for two summers under the Home Mission Board (now the North American Mission Board). She felt drawn to the challenge of "pioneer missions," so she began teaching English as a Second Language in a small town in Idaho and working with children and youth in small Baptist churches. She eventually married Idaho native Will Frymire, began teaching elementary school, earned a master's degree in special education from the University of Idaho, and has now taught special education for more than 25 years.

David Needham, who lives in Missouri, earned a bachelor's degree in church music and voice in 1975. He went on to complete a master's degree in pastoral counseling from Midwestern Seminary. He said his fondest memory was helping teach the legendary OBU course Western Civilization in its first year. Following tradition, his daughter Megan Needham earned a bachelor's degree in family psychology in 2003.

Mary Sue Needham McNeal, who lives in Colorado, earned a bachelor's degree in office administration in 1974. She and her siblings never really considered attending school anywhere but OBU, she said. Her family moved from Oklahoma City to El Paso, Texas, just before her junior year in high school.

"OBU represented going home," Mary Sue explained.

She began her career as a receptionist at El Paso Natural Gas in Flagstaff, Ariz., and now works as a manager in the corporate office in Colorado Springs.

Paul Needham, a Shawnee resident, earned a bachelor's degree in business administration in 1975, and later earned an MBA from the University of Central Oklahoma. He serves as a regional manager/trainer with Oklahoma Department of Human Services.

His fondest memory also involves the Bison statue and Ka-Rip.

"The statute of limitations has run out on all the 'funny business' he got into but he still admits to none of it -- except for something to do with the Bison and paint," Frymire said of her brother.

Paul Needham said some of his most cherished memories include Coach Lee Brigham and running cross-country for OBU for three years; Max Brattin's economics courses; going to the Grubsteak; going to weekly chapel services (or figuring out how to skip); and being part of the OBU Bison tradition, such as knowing Ka-Rip since he was about 11 years old.

"I owe a lot to the university," Paul said. "I received an outstanding education in business. Thanks to OBU, I was able to later get my MBA and continue in a career serving vulnerable and abused adults in Oklahoma and nationally."

The Needhams' sister, Paula, attended OBU for one year, 1972-73. She now works in the hospitality industry.


Across the Family Tree


Almost since its beginning 100 years ago, Bison Hill has hosted cousins from across the family tree, rooted in the tradition established by Hattie Fae Robbins and Dr. H. Tom Wiles.



Their daughter Bettie Fae Wiles (Martha Fae Frymire's aunt) graduated from OBU in 1949 with a bachelor's degree in German. She married Milton Ferguson, who graduated from OBU in 1951 with a bachelor's degree in rhetoric and public address. He became a professor at Southwestern Baptist Theological Seminary and president of Midwestern Baptist Seminary in Kansas City. Their daughter Jane Ann also graduated from OBU.

The Wiles' son, John Wiles, (Martha Fae's uncle) met his wife, Ruth, in Lawton. They both graduated from OBU, he in 1947 and she in 1949. All five of their children attended OBU: Dr. J. Keating Wiles graduated in 1972 with a degree in music theory and composition; Rev. Tom Wiles, in 1974 with a degree in philosophy, and his wife, Sherry, in 1975 with a degree in piano performance; and Bill Wiles in 1984 with a degree in American studies, and his wife, Mary, also in 1984 with a degree in elementary education. Their daughter, Dr. Nancy Virginia Wiles, attended as part of the Class of 1974, and their son James Robert Wiles attended in 1976-79.

Tom and Sherry Wiles's daughter, Melissa Johansen, graduated in 1998 with a degree in voice, K-12, and her husband, Andrew, graduated in 1998 with a degree in mathematics-secondary education. Bison traditions endured in the family; Tom's favorite trick involved putting clothes on the bison statue in the Oval.

While Martha Fae Frymire recalls that the four continuing generations follow the Wiles family (her mother's side), the Needham connection is her father's family. The Needhams initially chose OBU because they lived in Shawnee.

"Daddy knew my mom before he left for the war and wanted to pursue both her and a music degree at OBU," Martha Fae explained.

In retrospect, she is thankful to have grown up amidst the OBU tradition.

"We have all known Ka-rip since childhood," she said. "My sister Mary Sue and I have Ka-Rip T-shirts I got at the bookstore a few years ago. We wear them when we are together and always get questions. We then treat them to a lively chant of Ka-Rip. It never fails to draw a crowd and entertain.

"My Uncle Milton Ferguson, now in his 80s, gave us his version last year, actions and all. He said the author of Ka-Rip came to campus when he was a student and showed them his original version with the movements and in slower cadence than we now do it."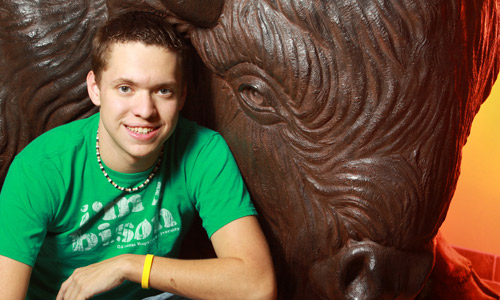 Timothy Frymire, a freshman at OBU, represents the fourth generation of his family to attend OBU.

Building on decades of family legacy, Frymire's son Timothy decided to attend OBU and continue the tradition of his relatives.

"My experience so far has been great," he said. "There are so many places on campus to fit in. I've joined SIFE (Students In Free Enterprise), College Players and Good Shepherd.



"OBU feels like the right choice for me," he said. "I believe God led me here and to these people for a reason. This is His plan for me, I'm fairly confident. This has been a great start to a semester!"