Two Faculty Installed to Endowed Roles
September 13, 2010
Academic installations highlighted OBU's chapel service Wednesday, Oct. 13, in the University's Raley Chapel.

Dr. David C. Houghton was installed to the Minter Chair of Business, and Dr. D. Brent Ballweg was installed to the Patterson Professorship in Music during the 10 a.m. event.

Endowed chairs and professorships provide funding for academic positions through investment of funds in the university's permanent endowment fund. Annual earnings are used to assist with compensation.

Houghton, Minter professor of business and dean of OBU's Paul Dickinson School of Business, is the fifth recipient of the Lloyd G. and Betty E. Minter Chair of Business. He joined the OBU faculty in 2010.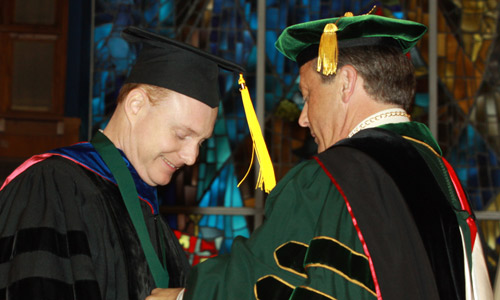 Dr. David Whitlock (right), president of OBU, presents Dr. David Houghton with a medallion recognizing his installation as the Lloyd G. and Betty E. Minter Chair of Business on Wednesday, Oct. 13.

He earned a bachelor's degree in business administration and accounting from the University of Kansas, with concentrations in marketing and East Asian studies. He earned master's and doctoral degrees in marketing from the University of Cincinnati. He received an honorary doctorate from the Kazak-American Free University in Ust-Kamenogorsk, Kazakhstan, where he served as a guest lecturer and educational consultant in 1999 and 2001.

Houghton previously was associate professor of marketing at Charleston Southern University. He has held the Sam M. Walton Free Enterprise Fellowship since 1999. He is a member of the Society for Consumer Psychology, Association for Consumer Research, Christian Business Faculty Association and World Future Society.

Dr. and Mrs. Lloyd G. Minter have a relationship with OBU which spans more than 70 years. Minter, a 1940 OBU graduate, is retired senior vice president and general counsel of Phillips Petroleum Co. He worked with the company for 35 years, and later served as counsel to the Tulsa law firm Boone, Smith, Davis, and Hurst for more than a decade.

The Minters invested more than 50 years in the Bartlesville community. They moved to Tulsa in 2006 and Mrs. Minter died in July 2007. While in Bartlesville, they were members of the First Baptist Church, where he served as a deacon and Sunday School teacher and she was a longtime teacher and pianist in the church's junior high department.

Active in numerous business and civic organizations, the Minters have been significantly involved with OBU. He has served on the University board of trustees for five terms, including three years as board chairman. In addition to providing funds for the Minter chair, the couple established the Minter Lectureship in American Business Practice, which brings a noted speaker to the OBU campus each academic year to address issues related to business and ministry.

At a luncheon following the installation, Houghton expressed gratitude to the Minters for envisioning a business school integrated into the overall university structure.

"Business for the sake of business isn't sufficient," Houghton said. "I am grateful Dr. Minter was here long ahead of me and planted the seeds and watered them. I get to reap the benefits."

Ballweg is the third recipient of the Burton H. Patterson Professorship in Music. He joined the OBU faculty in 2010. He also is director of choral activities at the university.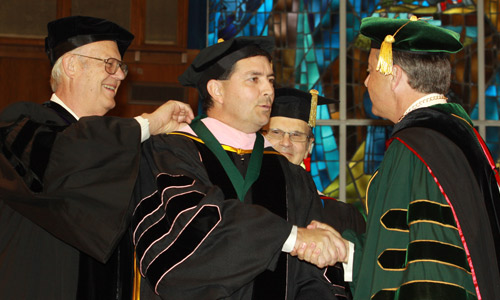 Dr. Brent Ballweg (center) receives a medallion signifying his reception of the Burton H. Patterson Professorship in Music at OBU. The medallion was presented by (from left) Burton H. Patterson, Dr. Paul Hammond and Dr. David Whitlock.

A 1978 OBU graduate, Ballweg completed a bachelor's degree in music. He earned a master's degree in choral conducting from Southwestern Baptist Theological Seminary, and a doctorate in choral conducting from the University of Missouri-Kansas City Conservatory of Music.

Ballweg previously served as professor of music at Southern Nazarene University. He has served as the American Choral Directors Association national chair for two-year college choirs, and is a past president of the Oklahoma Choral Directors Association and Texas Two-Year College Choral Directors Association. He recently was elected president of the ACDA Southwestern Division for 2012-14.

Ballweg is active as a guest conductor, clinician and adjudicator for various music contests, festivals and workshops across the country. His professional affiliations include the American Choral Directors Association, International Federation for Choral Music, Oklahoma Choral Directors Association, Music Educators National Conference, National Collegiate Choral Organization, Oklahoma Music Educators Association, and Phi Mu Alpha Sinfonia.

Ballweg is married to Susan (Van Scyoc) Ballweg, who graduated from OBU in 1977 with a degree in organ performance. She is a flight attendant for Delta Airlines.

"I feel my coming here was a 'God thing,'" Ballweg said, noting the opportunity to serve in an academic division where he studied as an undergraduate.
For chapel messages, follow this link.

Burton H. Patterson is an entrepreneur, attorney, educator and musician who has a longstanding relationship with OBU.

Patterson graduated from OBU in 1956, from the Northwestern University School of Law in 1959, and from Southwestern Baptist Theological Seminary in 1962. He completed a Ph.D. degree from Trinity Theological Seminary.

Licensed to practice law in Texas in 1959, he taught at Texas Christian University from 1959-68, and taught for one year in the law school at Cleveland State University.

Following his teaching career he was a securities lawyer with El Paso Natural Gas Company for five years before opening his private practice. He retired in 1999 as the senior partner of Patterson, Sargent and Glanville, a tax law firm.

Patterson has pursued varied business ventures since 1970, including ownership of a successful waste management business. In retirement he incorporated The Foundation for the Advancement of Christianity.

Patterson and his wife, Ginger, live in Southlake, Texas. He previously honored his mother and father with establishment of an endowed professorship in journalism at OBU. In addition, he has served in numerous volunteer capacities with the University. He is a charter member and former chair of the National Board of Development and has been a leader in various OBU capital campaign efforts.

"In bringing someone like Brent Ballweg to OBU you have done what I wanted done," Patterson said to OBU administrators at the luncheon. "I applaud the university for that."

"In hiring new faculty we wanted those who, based on abilities and credentials, we'd have to compete with other schools to attract." said OBU President David Whitlock. "With our endowed positions, we have been able to do that. God smiled on OBU when he gave us both of our top choices in these two faculty positions."

The tradition of academic positions supported by special endowed funds has existed for several centuries. Among the oldest academic designations are the Regius Professorships at Oxford University established in 1546 by Henry VIII. In the United States, most colleges and universities of excellence have endowed academic positions, the first having been created at Harvard more than 200 years ago by London merchant Thomas Hollis.

OBU currently has 26 active endowed chairs and professorships: Ralph and Marie Barby Chair of Psychology; Robert L. and Sara Lou Cargill Chair of Business; Dickinson Chair of Business; Dickinson Chair of Religion; Ruth Dickinson Chair of Bible; Albert J. Geiger Chair of Business; Lawrence C. and Marion V. Harris Chair of Education; Lawrence C. and Marion V. Harris Chair of Nursing; Auguie Henry Chair of Bible; Ida Elizabeth and J. W. Hollums Chair of Bible; Lloyd G. and Betty E. Minter Chair of Business; Lawrence Peitz Chair of Business; Ernest C. Wheeler Chair of Business; Mary A. White Chair of Teacher Education; Crouch-Mathis Professorship in Literature; Jewell and Joe Huitt Professorship in Religious Education; James E. Hurley Professorship in Biology; McCasland Foundation Professorship in Business; Violet Sturgeon Minton Professorship in Early Childhood Education; Ruth Jay Odom Professorship in Fine Art; Burton H. Patterson Professorship in Music; Frank W. and Pauline G. Patterson Professorship in Journalism; Elizabeth Randel and Ann Scales Professorship in Constitutional Law; Rowena Strickland Professorship in Bible; Ernest C. and Ruby Wheeler Professorship in Business; and WMU Professorship in Missions.