Watson Named to Oklahoma Education Hall of Fame
September 29, 2010
Widely known for his portrayal of historic Oklahoman Will Rogers and favored on Bison Hill as a longtime professor and scholar, Dr. Doug Watson will be inducted into the Oklahoma Higher Education Hall of Fame Tuesday, Oct. 12. The ceremony and dinner will be at the Jim Thorpe Museum and Oklahoma Sports Hall of Fame in Oklahoma City.
Watson joined the OBU English faculty in 1980. He retired in 2007 as professor of English after serving 27 years at OBU. He taught for nearly three decades in a variety of English courses including Western Civilization, Young Adult Literature and Major Authors: American Poetry.

As director of OBU's Woodrow Wilson Visiting Scholars series from 1985 to 2006, Watson coordinated the activities of outstanding scholars during their week's visit to campus. He also hosted the German Marshall Fund fellows and assisted students in being involved in the Oklahoma Scholar-Leadership Enrichment Program.

Watson was a Fulbright Professor of American literature in Nigeria, West Africa, during the 1988-89 academic year, in addition to being a Rotary Fellow for Overseas Education.

OBU faculty members elected him chair of the Faculty Council for the 1989-90 academic year, and he served as a member of the council for several terms. In 1992, he led in the establishment of the University Honors program, which he directed until 2006. During that time, more than 200 students participated in the program, writing bachelor's theses, performing public service activities and participating in international study opportunities.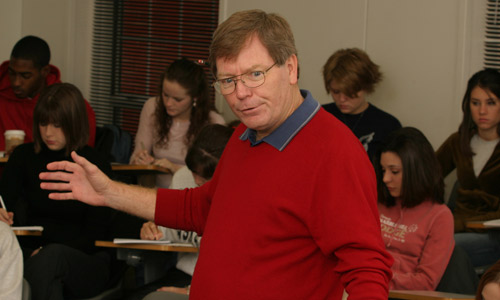 Dr. Doug Watson, professor emeritus of English at OBU, presents a class lecture in 2005. Watson will be inducted into the Oklahoma Higher Education Hall of Fame in October.

The University recognized Watson with its Distinguished Teaching Award in 1993. The highest honor for OBU faculty members, the award is presented annually to a professor who has "exemplified in his or her teaching career those characteristics of the superior instruction delineated in the 'Commitment to Excellence,' a statement of teaching expectations and objectives adopted by the faculty, administration, and the Board of Trustees."

Watson represented OBU with his participation as a scholar in the "Let's Talk About It, Oklahoma!" project in more than 50 of Oklahoma's public libraries. The project, sponsored by the Oklahoma Humanities Council, is a reading and discussion program series conducted in libraries across the state. In addition to making scholarly presentations about 15-20 books being studied, Watson directed the question-and-answer periods which followed. He also prepared some of the guides the libraries used.

Beginning in 1991, Watson developed historical characterizations of literary figures. He spent many summers working with other scholars in Chautauqua-related events portraying Nathanial Hawthorne and, beginning in 1994, Stephen Crane throughout the Midwest.

In 1997, Watson began developing "Conversations with Will Rogers." He continues to appear as this Oklahoma treasure, most recently at the Fred Jones Museum of Art on the University of Oklahoma campus. After consulting with the son of Will Rogers, who offered his endorsement, Watson studies Rogers' writings and the many biographies written about him. He even learned to perform some of the rope tricks Rogers used in his own public performances.

Watson has made more than 600 performances throughout the nation as Will Rogers - and more than 800 performances, plus workshops, of one of his characters. Beginning in 2006, he began work with the Will Rogers Memorial Museum in Claremore, Okla., and Oologah, Okla., making presentations as Will Rogers in more than 150 Oklahoma public schools.

He has served on the board of trustees for World Neighbors, an organization headquartered in Oklahoma City which taught self-sustaining practices to people in 18 countries.

He earned a bachelor's degree in English from Baylor University in 1969; a master's degree in English from West Texas State University in 1972; and a Ph.D. in English from Texas Tech University in 1980. He has completed additional study at Middlebury, Princeton, Conn. Prior to his time at OBU, he served as one of the original faculty members at Vernon Regional Junior College in Texas as instructor of English and chairman of communications and fine arts.

Watson and his wife, Kay, a retired eighth grade English teacher, reside in Shawnee. They enjoy gardening, exercising, reading and travel.

Other 2010 Hall of Fame inductees include William R. Carmack, University of Oklahoma; James J. Cook, Rose State College and Seminole State College; John E. Fagan, University of Oklahoma; John M. Hays, Southwestern Oklahoma State University; L. Lee Manzer, Oklahoma State University; Tom J. McDaniel, Oklahoma City University; E. Ann Nalley, Cameron University; Roger J. Panciera, Oklahoma State University; R. Leon Price, University of Oklahoma; and a special award of merit to William and Pam Shdeed, Oklahoma City University.

Other OBU faculty and administrators who have been inducted into the Oklahoma Higher Education Hall of Fame include Dr. John Raley, Dr. Warren Angell, Dr. Bob Agee, Dr. Jim Hurley, Dr. Juanita Millsap and Dr. Katherine Rader.