Students Cross Cultures through 'Hands On' Missions
September 27, 2010
Editor's note: Students' last names are withheld for the safety of the people with whom they worked and to not hinder future travel arrangements to places which may not be open to a Christian witness.

Hands On, the semester-long residency program founded by the International Missions Board, is changing the lives of college students - including students from OBU - by providing opportunities to serve worldwide for four to six months at a time. The program serves as a middle ground between a short mission trip, such as a World Changers project, and a two-year commitment, such as the Journeyman program.

Three OBU seniors recently returned to the United States after spending their spring semester abroad in service.

Dillon and Victor, both OBU senior international business majors and cross-cultural ministry minors, spent the first half of 2010 in Paris, France. They were interns for the regional marketing department of a multi-national company where, Dillon said, they focused on honoring God in their jobs each day while serving their coworkers. Their goal was to build new relationships.

They found opportunities for involvement in sports and recreation through the relationships they formed at work. Victor played in an urban soccer league, and Dillon took part in a volleyball association.

"These were some of the greatest opportunities to spend time with our friends there and to be in their lives," Dillon said.

Dillon also had the opportunity to coach a Little League team which, he said, was an extremely rewarding privilege to interact with children, as well as their parents and other coaches.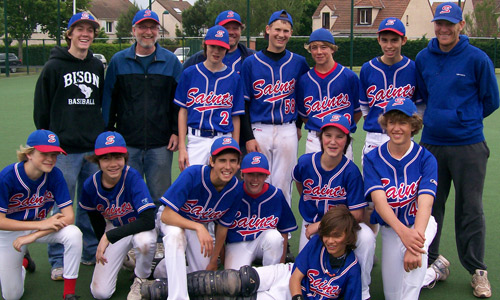 Dillon, an OBU student who recently spent a semester abroad, poses with a Little League team he helped coach in Paris, France. One aspect of the Hands On program is to build relationships with local people.

Aside from work and play, Dillon and Victor took French classes twice a week from a local school, as well as online classes at OBU. Learning French was one of the main challenges Dillon faced. Other challenges included living in a different cultural setting away from friends and family; being flexible; and knowing how to verbally share the message of Jesus Christ in a different culture and in the business setting. Like any student, the Hands On participants faced the challenge of balancing school, work and friends.

"It was very much worth it," Dillon said. "Obviously it was a lot different than being at OBU, and in some ways we missed out on friendships here and memories. But God called us to go. He allowed us the open door for the internship, gave us friends there, and through it all taught us so much about relationships, culture, language, business and ministry.

"Honestly, it is a life-changing experience. I am not the same person I was before going, and I will never be able to get over the fact that we live in a big world with hundreds of countries with billions of people."

Derek, an English major from Wichita, Kan., lived in the Middle East for six months. He was on a team with a seminary student and a youth minister, and together they taught Bible stories to foreign laborers who will, in turn, spread the stories to those around them. Derek experienced the program a bit differently than most; he was basically in charge of his own schedule after the first two months. The freedom allowed him to fully experience life overseas.

When Derek first considered the Hands On program, the mission board was not offering a trip to the Middle East. However, he felt God calling him to serve in that specific area, so he asked the IMB if there was another option. They set up a trip specifically for him and located representatives with whom he could work.

Derek said he misses aspects of life in the Middle East, but he is readjusting to the States well. Overall, he said, the trip provided clarity in his call to overseas mission work, and he is thankful for the opportunity.

"I want to go back, but I plan on staying here to pursue my education first," he said.

The Hands On Program is currently planning a multitude of trips for the spring of 2011. The application process is rigorous and could potentially take a significant amount of time to be reviewed and finalized, so interested students are encouraged to submit a completed application eight to 10 months prior to the trip date. For more information, click here.