OBU Headlines Oklahoma City Newscasts
September 21, 2010
OBU was featured on two broadcasts of KOCO Channel 5 news during its "On the Road College Tour" Wednesday, Sept. 15. The Oklahoma City news station broadcast live from OBU's Oval during the 5 p.m. and 6 p.m. newscasts.

News anchors Paul Folger and Jessica Schambach reported from a news desk north of the Oval fountain. Meteorologist Rick Mitchell provided weather reports from around campus.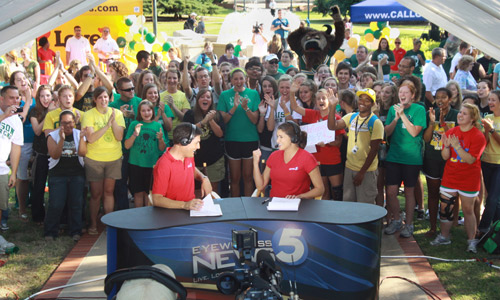 KOCO Channel 5 news anchors Paul Folger and Jessica Schambach report live from a news desk on the OBU campus during the station's "On the Road College Tour" Wednesday, Sept. 15. Students provide school spirit for the event.



KOCO reporter Brandon Beyer interviewed OBU students Ryan Cox and Kristin Pearson, as well as faculty members Dr. Albert Chen, Dr. John McWilliams and John McCullough. He also featured OBU's Centennial celebration, interviewing Dr. John Parrish for information about the history of Bison Hill.


Telecommunication students assisted the KOCO crew during the all-day event, with student reporter Janna Smith appearing live during the broadcasts.

OBU was selected as one of five universities across the state to be part of KOCO's annual college tour, which will also feature Oklahoma City University, the University of Oklahoma, Oklahoma State University and the University of Central Oklahoma.

Students enjoyed a carnival-type setting, with generous giveaways provided by the tour's sponsors: Call Okie, Chesapeake Energy, McDonald's and Love's Country Stores. The event also featured a live band sponsored by Chesapeake Energy.

Before the live broadcasts, the anchors participated in afternoon question-and-answer sessions for students in Bailey Business Center's Tulsa Royalties Auditorium. They discussed the behind-the-scenes life of a news reporter, as well as information about what makes a story newsworthy.