Alum Lynda Young Writes to Encourage
September 7, 2010
From devoting her time to volunteering in the children's hospital in Atlanta, to observing her husband's work in the field of cancer research for more than 40 years, OBU alum and author Lynda Tinnin Young has a passion for the experiences of families with children suffering from chronic health conditions.

Young has written and published multiple books in her series, "You Are Not Alone," through her publishing company Kindred Press LLC, a branch of her ministry, Kindred Spirits International.

"My motivation was working with the families in the children's hospital here in Atlanta," Young said. "I was a volunteer in the school room, and did bedside tutoring to the children on the isolation ward who were in for a bone marrow transplant."

Young's first book in the series, "Hope for Families of Children with Cancer," was released in 2008. The second, "Hope for Families of Children with Congenital Heart Disease," was recently published in 2010. Each book contains short stories of encouragement, Scripture, helpful advice, prayer and resources for each health situation. The third addition to her series, "Hope for Families of Children with Autism Spectrum," is set to release in 2011.

"You need not walk alone," said Christian author Dr. Gary Chapman. "Lynda Young brings you the benefit of hearing voices of others who have walked this road. It is truly a book of hope."

Dr. Carlen Gomez-Fifer, associate professor of pediatric cardiology at the University of Michigan C.S. Mott Children's Hospital, calls Young's books "a wonderful combination of practical information, moral support and spiritual guidance."

Young graduated from OBU in 1963 with a bachelor's degree in elementary education. She also earned master's degrees in religious education and education administration. She is a nationally award-winning author and speaker, as well as the co-founder of Kindred Spirits International, whose purpose is to reach out to people in children's hospitals and refugee missions.

She has several bonds to OBU through her family: her late father, Dr. Finley Tinnin, who served as pastor of Baptist Temple in Oklahoma City, also served on the OBU board of trustees for years. Her daughter, Shanda Young Henson, graduated from OBU with a degree in nursing in 1998, and her son-in-law, Jason Henson, graduated with a degree in music in 1995, which he uses at Immanuel Baptist Church in Shawnee as the minister of worship.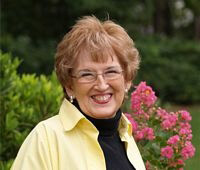 Young and her husband, Dr. John Young, are active members at Annistown Road Baptist Church in Snellville, Ga. He teaches at Emory University and internationally. The couple has four children, 11 grandchildren and four great-grandchildren.

Books in Young's "You Are Not Alone" series can be purchased through Amazon.com and in local Christian bookstores. For more information about the author, her books and her publishing company, click here.