Professors 'Resonate' with Future Ministers
August 2, 2010
Several OBU music professors recently participated in Resonate: Above the Noise, a camp sponsored by the Baptist General Convention of Oklahoma for youth who believe they may have a future in music ministry. About 50 Oklahoma high school students participated in the new camp, hosted on Bison Hill July 6-10.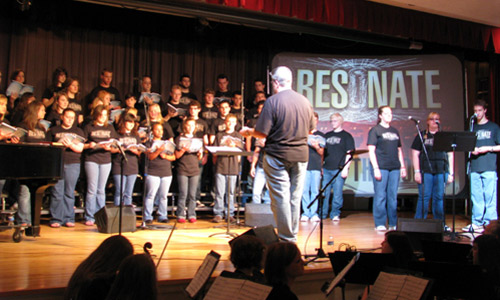 Dr. Ken Gabrielse directs the choir during the recent Resonate music camp. Gabrielse serves as worship and music specialist with the Baptist General Convention of Oklahoma. The BGCO sponsored the new camp on the OBU campus. (Photo by Kat Hunter)

"Resonate was designed to help equip young people who are growing leaders in their local churches," said Dr. Ken Gabrielse, worship and music specialist with the BGCO. "We wanted to see these young leaders in the church grow in their musicianship and artistry as well as their spiritual depth."

Gabrielse said worship and music in the church is not only about what happens on the platform, but it also is about the disciplined preparation to exercise skill for the long term.

"The students were mentored by church leaders who have expressed their lives in ministry," he said. "They got to see firsthand what it takes to be servant leaders who use art as a tool."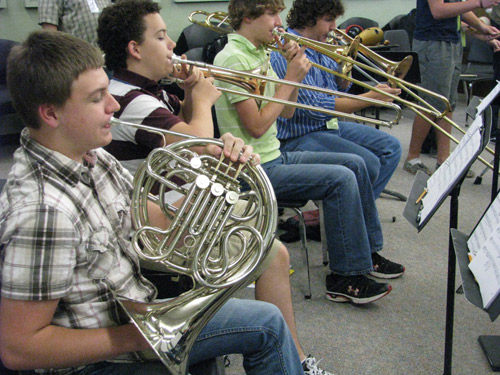 Resonate campers, including (from left) Derek Smith, Seth Wright, Lucas Adams and Mason McCormick, practice their parts in the orchestra during the new camp designed for students who may one day serve in music ministry. Smith is from Muskogee, Okla.; Wright and Adams are from Oklahoma City; and McCormick is from Midwest City. (Photo by Kat Hunter)

OBU faculty contributing to the camp included Michael Dean, assistant professor of music, who taught piano; Dr. Casey Gerber, assistant professor of music education, who taught bass and led the worship band; Dr. Lee Hinson, associate professor of church music and coordinator of the Church Music Department, who taught rhythm guitar, played in the evening worship band, and led the guitar section in the orchestra; and Dr. Jennifer McQuade, assistant professor of music, who taught voice. Dr. Kristen Stauffer Todd, chair of OBU's Division of Music, presented a lecture titled "So You Want to Be a Music Major," with hands-on experiences and methodologies for preparing to study music at the college level. Dale Griffin, dean of spiritual life, was the camp pastor, speaking to the students each morning and evening.

"I feel honored to have been a part of this first year of Resonate at OBU," McQuade said. "I was given the opportunity to teach future ministers of music how to use their God-given talents in a healthy and efficient way."

McQuade led a voice class that met twice a day which allowed for both solo and ensemble voice instruction as well as time for lecture-based instruction on the fundamentals of singing.

"It was such a joy to see students come alive and find their true inner voice with the support of their peers in the class setting," she said. "Reminding each student that the goal in music ministry must be directed toward communicating God's Word and love rather than 'performing' was instrumental in their growth throughout the week. We need quality and meaningful singing in our churches -- be it in contemporary or traditional music styles -- and I believe that message was well received during Resonate."

McQuade said the students who attended the camp had been identified by leaders in their home church as individuals who have shown a commitment to and passion for Christ and the ministry of His word through music.

"For many of the students, Resonate provided an opportunity to bring them onto OBU's campus for the first time," she said. "It is my wish that Resonate's positive outcome will bring these students back in subsequent summers and, ultimately, as freshmen at OBU."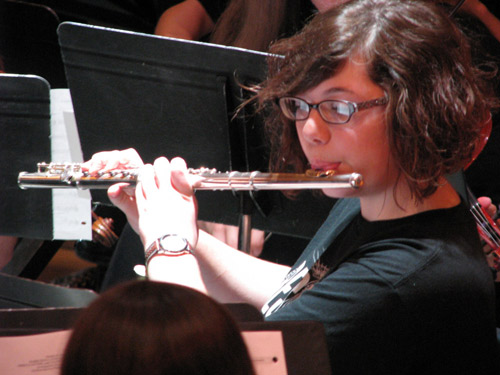 Flutist Hannah Helbig, a student from Claremore, Okla., performs with the Resonate orchestra during the recent music camp hosted by the Baptist General Convention of Oklahoma. (Photo by Kat Hunter)

Three OBU students - Blake Compton, Kathryn Hunter and Michelle Walkup -- served as student mentors for Resonate. Compton is a freshman worship arts minor from Norman, Okla.; Hunter is a sophomore voice major from Owasso, Okla.; and Walkup is a sophomore worship arts major from Weatherford, Okla.

"It was a wonderful opportunity to get to know the campers, encourage them to use their talents for God's glory, and be available to talk with them about college and a possible career in music," Hunter said. "I especially enjoyed the final concert where the orchestra and choir performed eight Casting Crowns songs with solos and praise team opportunities, and on the last song incorporated a stomp team."

Hunter said the camp was well organized, and she expressed thanks for the hard work of Patricia Farewell, who serves as worship and music ministry assistant at the BGCO. Hunter said she already is looking forward to helping with the next Resonate camp.

"The teachers were high-quality, caring, encouraging and understanding, and the students were attentive, talented, hard-working and team players," she said.