Personal Testimony Most Significant, Miller Says
August 25, 2010
OBU was 34 years old when Dr. Calvin Miller felt God calling him to the Gospel ministry, Miller told OBU students during the university's Centennial Fall Challenge chapel service on Wednesday, Aug. 25. Sixty-six years later, after a lifetime of study and ministry, Miller said he has determined a Christian's life essentially boils down to his or her testimony about Jesus. 

Miller, a noted Christian author and professor, and nationally known worship leader Jami Smith returned to their alma mater to launch the 2010-11 academic year on Bison Hill. Miller graduated from OBU in 1958, and Smith graduated in 1993.

"How did you get mixed up with a 100-year-old university?" he asked students.

The answer, he said, begins with how the student got mixed up with God.

For Miller, his personal call to ministry was followed by his sister's matter-of-fact statement: "If God called you to anything, He had a wrong number." Miller decided to follow his intuition into ministry as he began his college studies. He said in his opinion, a person could choose between two universities: "OU, if you loved football, or OBU, if you loved Jesus," he quipped.

Miller recounted his own journey to OBU from his hometown, Enid, Okla., which he described as a long bus ride concluding with a terrifying enrollment into Dr. Opal Craig's speech class. After a disastrous semester of failed presentations, Miller said he returned the second semester determined to excel in his class on public speaking - a necessity for a successful preacher.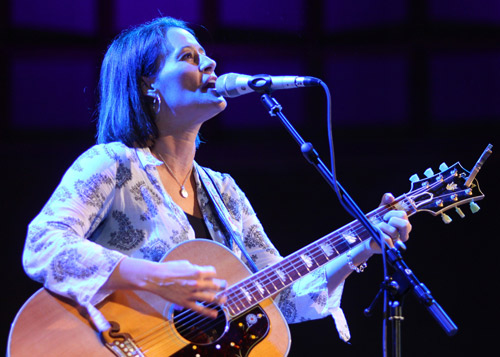 Nationally known worship leader Jami Smith leads OBU students in a time of worship to begin the first chapel service of the fall semester. Smith is a 1993 OBU graduate.

Bolstered by the advice of a classmate to imagine everyone sitting in their underwear, Miller pursued his next assignment earnestly.

"And I stood before a mirror, practicing the art of my life," he said, noting it was the first time he had really stopped to inspect his own image. "In an instant, I was healed - I had seen myself."

Based on 1 Corinthians 2:1-10, Miller encouraged OBU students to also intently inspect their lives for what is truly important: knowing God and serving Him.

"I believe the most significant thing about your life is your testimony of Jesus," he said. "Not just the story of Jesus, but the story of your personal affair with Jesus."

Miller said a person is not attracted to OBU or to a Baptist church because they are enamored with Baptists - but rather because they are attracted to the dynamism of the Christian believers in such places.

"We are all looking for one thing: something that approaches a demonstration of the Holy Spirit's power," he said.

Miller also encouraged students to be satisfied with where God has put them and to not demean the importance of even a simple role. He said to imagine a statue, content to exist in one place for the purpose and pleasure of its owner.

"God has put me here like a statue in a niche," he said. "And I intend to be faithful to what He has called me to do."