Alums Dan and Nancy Ford Go the Distance, Enjoy the Journey
August 16, 2010
The Profile in Excellence award is given by the OBU Alumni Association to a former student who has "demonstrated recognizable accomplishment in his or her profession, business, avocation, or life service in such a way as to bring pride and honor to the University." Each year, Profile In Excellence recipients are featured in OBU Magazine.
Together, OBU alums Dan and Nancy Ford have compiled 60 years of teaching experience as they approach their 30th wedding anniversary. The Fords agree the secret to longevity, both in the classroom and in marriage, is to enjoy the journey, balancing life's challenges and joys.
Nancy, a 1980 OBU graduate, is a special education teacher at Grand Prairie High School in the Dallas-Fort Worth Metroplex. In the past, she served as a homebound teacher and as an elementary and kindergarten teacher. The recipient of OBU's 1979 Lenna Smock Elementary Education Award, Nancy faces unique challenges in her classes, which have been featured in newspapers and on local television.
Dan, a 1977 graduate, is a bilingual mathematics teacher at Lee Middle School's Newcomer Academy in Grand Prairie. He also has served many years as a bilingual elementary teacher. In 1989, Dan was chosen Grand Prairie Educator of the Year and was a nominee for Texas Teacher of the Year. While teaching at Bowie Elementary in Grand Prairie, he helped his school win the Governor's Excellence Award. Dan also won the State PTA Scholarship and is a PTA Lifetime Member.
In 2002, Dan became a bicycle commuter and recently completed 6,800 miles riding to and from work. The two-wheel journeys are a loose metaphor for the winding journey of the Fords' life together.
Nancy's current assignment and her previous assignment as the district's homebound teacher challenge the assumption that the sole purpose of education is to prepare students for giving back to society as adults.
"Many of my students have a shortened life expectancy due to a congenital condition and some may even be terminally ill," Nancy said. "In these situations, the purpose of education shifts from the future to the present, to the joy of learning in the here and now and not for a future that may never come.
"My students remind us all to live in the present and to realize that the worth of each person is defined by something beyond what one might contribute to society in the future; our worth is an intrinsic, God-given thing, right here and right now," she said.
"This realization is my students' great gift to society, a gift that society desperately needs," Nancy said. "As more and more of us age or become infirm, we will benefit or suffer to the extent that society becomes a place in which the old or infirm are more than an afterthought amidst our affluence."
A big part of Nancy's job is advocating for physically and mentally challenged students, persistently requesting that she and her coworkers get the specialized supplies they need to make the classroom a genuinely cheerful place where love triumphs over circumstance.
Believing much of what society needs to know can be learned in her classroom, and to make sure the lesson is not lost, Nancy gives students from regular classrooms the opportunity to interact with her students on a regular basis. In the process, students learn "the joy of compassion rather than the emptiness of entitlement."
On more than one occasion, Nancy has visited one of her students in the hospital and all too soon attended that same student's funeral. Whenever this happens, Nancy offers the bereaved parents the heartfelt empathy that can only come from one who has also lost a child. In 1987 the Fords lost their infant son, Sam, to a congenital heart condition. To help deal with the loss of a student she has grown to love, Nancy donates blood in the student's honor. She is a multi-gallon donor.
Lifelong adventurers
Dan still remembers the first moment he saw Nancy at OBU in 1976, at a Baptist Student Union meeting. Nancy remembers praying that she would one day marry a man who loved being outdoors as much as she did.
The answer to Nancy's prayer may have become more than she bargained for: shortly before her 50th birthday, she found herself dangling 450 feet above the ground from a climbing rope high on the face of a sandstone cliff near the Ford's summer home in western Colorado. Dan had encouraged Nancy to participate in an annual July 4th fund-raiser climb in Colorado National Monument. Nancy eagerly joined 30 other novice climbers who ascended the vertical sandstone where they raised an American flag while the trumpet notes of the National Anthem echoed off canyon walls.
Nancy also is an accomplished bicyclist, having served as vice president of the Lone Star Cyclists. She recently participated in an MS 150 charity ride in which she raised $600 for the fight against multiple sclerosis. Her diligent training enabled her to easily pedal the first 75 miles in just five hours before the event was called off due to lightning.
Dan said some of his remarkable outdoor adventures are a result of a 1977 OBU backpacking class in Big Bend National Park. During the class, Dan vowed to return one day with a canoe and explore Santa Elena Canyon where the Rio Grande has gouged a shadowy slot 1,500 feet deep, through solid limestone and class IV rapids.
Dan's plan to paddle six miles upstream through the canyon in a tiny solo canoe was met with skepticism by a park ranger. Before allowing him to attempt the trip, the ranger insisted Dan leave his footprint on a piece of carbon paper in case it was needed by a search squad. Dan successfully used eddy currents, upstream ferries and bracing strokes to negotiate the canyon without incident. Then he returned the same six miles downstream, having seen the canyon twice in one day while avoiding the hassle and expense of the usual overnight car shuttle.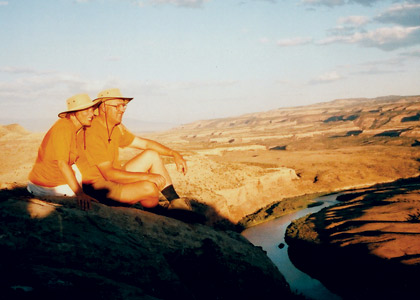 Several years later Dan returned to Big Bend National Park for another ambitious adventure. He biked and hiked 70 miles in a single day, from the park's lowest point beside the Rio Grande to its highest point on Emory Peak, a total climb of more than 7,000 feet. Recently, Nancy accompanied Dan in repeating both of the Big Bend adventures.
The Fords said they do not consider their outdoor adventures as feats of endurance, but rather as celebrations of life that have added balance and longevity to their demanding careers. At their summer home in Fruita, Colo., they enjoy entertaining friends, biking, hiking, kayaking, reading and writing. Dan credits much of his love of writing to OBU's Western Civ and backpacking professors Bill Hagen, Gerry Gunnin, James Farthing and Shirley Jones.
"They had the creativity and courage to create a college course combining a physical outdoor activity (backpacking) with an intellectual discipline (writing) which became a model for the balanced and beautiful life that Nancy and I have shared together over all these years," he said.
The Fords' ties to Bison Hill stretch back several decades. Dan's mother, Jeanette White Ford, graduated from OBU in 1949. His father, Dr. LeRoy Ford, was a long-time education professor at Southwestern Baptist Theological Seminary. Dan and Nancy have two daughters: Sally, 25, teaches ESL in Korea; and Becky, 21, is pursuing a career as a registered nurse.
After sharing 60 years in a profession with a burnout rate approaching 50 percent within the first five years, Dan and Nancy agree it is essential that teachers set reasonable expectations for themselves and communicate these limits to others: "If someone asks you to walk on water, gently remind them that neither one of you are Jesus. But be ready to walk the second mile just the same. And don't forget ... enjoy the journey."
Click the following link to view a full list of previous Profile in Excellence recipients.