340 Students 'Serve Shawnee' during Welcome Week
August 24, 2010
More than 340 OBU students hit the streets of Shawnee with service and a smile as part of their Welcome Week festivities on Monday, Aug. 23, for the annual "Serve Shawnee" initiative. 

"Serve Shawnee" participants engaged in a variety of service opportunities at about 26 locations city-wide. Ten to 12 students worked at each location in tasks varying from sorting clothing at the Salvation Army Thrift Store to painting the front of City Church of Shawnee.

The group was comprised of both new freshman and transfer students who arrived on campus Saturday, Aug. 21, and the upper class Welcome Week Workers, whose duties include acclimating new students to campus and the local community. The weeklong emphasis is led by Welcome Week Steering Committee co-chairs Sara Wilson, a senior from Bethany, Okla., and Scott Risinger, a senior from Oklahoma City.

"The projects went very smoothly, thanks to the hard work and planning of senior Welcome Week Steering Committee members Kaitlyn Rothaus and Tim Kurtz, as well as the help and encouragement of volunteer bus drivers from all over Shawnee," Wilson said. "Welcome Week Workers are also an invaluable aspect of this project, leading and encouraging new students to get to know the city of Shawnee and its needs.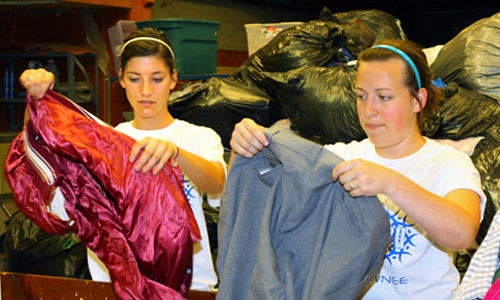 OBU students Melanie Walker (left) and Veronica Pistone sort clothes at the Salvation Army Thrift Store as a part of "Serve Shawnee" on Monday, Aug. 23. Walker is a senior health and exercise science major from Shawnee, and Pistone is a biblical languages major from Kansas City, Mo.


I think that this year's project did a great job of connecting students to the greater Shawnee community. Tim and Kaitlyn ensured that every new student received a brief summary of the morning's achievements, as well as the contact information for every project visited, so that new students can continue to serve Shawnee throughout the year if they so wish. All in all, it seems to have been a really successful project."

Rothaus is a senior from Bethany, Okla., and Kurtz is a senior from Heber Springs, Ark.

"Serve Shawnee is an important aspect of new student orientation," said Michael Burns, director of residential life and student activities. "Shawnee has so much to offer, and the service project allows students to break the bubble and get beyond the walls of the university. OBU hopes to teach students what it means to live in a community - not to simply exist in it, but to engage it."

To watch a video recap of the project, click here.