Mitchell Earns Emmy, 'Rookie of Year' Awards
July 22, 2010
 OBU alum Christi Mitchell received an Emmy Award and the "Rookie of the Year" Award at the National Academy of Television Arts and Sciences' Heartland Regional Emmy Awards gala dinner July 18 at the Will Rogers Theatre in Oklahoma City. Mitchell is a 2009 OBU graduate.

The National Academy of Television Arts and Sciences (NATAS) Heartland Chapter includes Oklahoma, Colorado, Kansas, Nebraska and Wyoming.

Mitchell received the Emmy Award as program editor for her work on the Oklahoma Public Broadcasting Service affiliate (OETA) documentary series, "State of Creativity." She served as assistant producer to Derek Watson, a 2006 OBU alum, until March 2010 when she was named producer.

"OETA is a great place to work because every day I get to have fun at work," Mitchell said. "I get to talk to experts about things that they are passionate about and find new ways to tell unique and interesting stories in a creative way. Working for a public broadcasting station has been a wonderful place to begin my career.

"The "Rookie of the Year" prize was created to honor young members in the industry who show promise in making an impact in the Heartland region and in the broadcast industry. Mitchell is the second OBU alum to receive the award. Watson received the prize in 2008.

The NATAS Rookie of the Year recognizes those newcomers to the business of television and media who have made a significant difference in a short time, and who serve as examples to their peers. The recipients may work in any aspect of the media business - news, production, public or cable TV, new media, website, advertising, etc. - but with the emphasis on video production and distribution to a wide potential viewing audience, or "mass communication." The recipient displays qualities such as an exceptional work ethic, creativity, leadership, teamwork, a drive to succeed and impeccable integrity.

Mitchell said she credits her success to OBU's communications faculty, noting the university's educators have taught two of the past three "Rookie of the Year" recipients.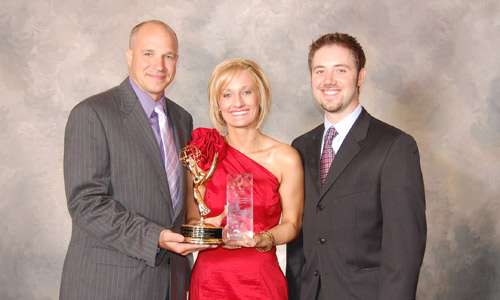 Emmy award-winning producer Christi Mitchell (center), a 2009 OBU graduate, is congratulated by Mike Bruce (left), OBU assistant professor of telecommunications and a 1989 OBU alum, and Derek Watson, a 2006 OBU alum who received the Rookie of the Year award in 2008.

They have taught me what it takes to be successful in the real world of multimedia," Mitchell said. "I also credit OBU and the telecommunication department for my ability to adapt quickly to new experiences. I am always going to be learning new things and applying them to my career. With technology always changing, we in the media field have to adapt and change with it - that is one of the major things that I take away from my OBU experience."

Mitchell said she appreciates the encouragement and guidance she received from her OBU professors. She still communicates with several of them and asks for their guidance.

"I not only count them as wonderful professors and mentors in my life, but friends," Mitchell said. "It is an overwhelming honor to be chosen as the Rookie of the Year, but I could not have done it without many people who have invested in me over the years. I appreciate them so much and would not be where I am today without them."

Mitchell also credits her fellow communications students at OBU with helping propel her forward in her studies and career.

"Being a small private university, we were able to learn and grow with each other over the four years," Mitchell said. "Like Proverbs 27:17 says, 'As iron sharpens iron, so one man sharpens another.' I believe that is what my fellow OBU media peers did for each other. They sharpened me in many ways. Working on things like the student newscast News30 and the Bison Sports Network really gave us all an idea of what the real world would be like for us. I am truly blessed to have gone to OBU, and to have had some incredible people around me while I was there."

The Heartland awards event, conducted primarily at the Comedy Works South in Greenwood Village, Colo., near Denver, was simulcast live to the Oklahoma venue for the third year in a row. About 400 attendees participated between the two cities.

For more information about Mitchell's show, "State of Creativity," go online to http://creativity.oeta.tv/.