Hughes Endowed Fund Provides Chair, Scholarships
July 30, 2010
The estate of OBU alumna Alta Faye Van Sickle has provided the university $857,500, which will be used as endowment funds for scholarships and an academic position, OBU President David W. Whitlock announced recently.
The gift creates an endowment trust in honor of Van Sickle's parents, the Reverend A.E. and Dora Johnson Hughes, to support a professorship chair in Christian studies and to supplement an existing endowed scholarship benefiting OBU students.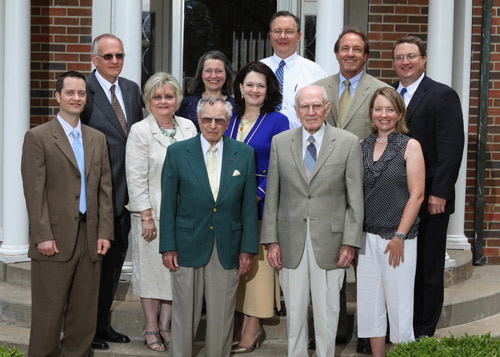 The family of Faye Hughes Van Sickle gathers to honor a gift from her estate to OBU to be used as endowment funds for scholarships and an academic position. The family includes (front, from left) Brad Kennedy, R.W. Hughes, Neil Van Sickle, Angela Palmer, (back, from left) Richard Kennedy, Elaine Kennedy, Margaret Hughes, Paula Carpenter, J. Randy Hughes, Paul Carpenter and Stephen Palmer.

The professorship will be named the Reverend A.E. and Dora Johnson Hughes Chair of Christian Ministry. The faculty member who is selected for the chair will have an earned doctorate, preferably in Christian studies, and will be selected by OBU's president upon recommendation from the chief academic officer and the dean of the university's Joe L. Ingram School of Christian Service.

According to a university statement, endowed chairs and professorships - which assist with compensation - are awarded to select professors who are "outstanding teachers and who have demonstrated exceptional ability in their academic disciplines." The gift which provides an endowed academic position is invested in the university's permanent endowment fund, and the annual earnings are used to assist with compensation.

The Van Sickle gift also supplements the existing Reverend A.E. and Dora Johnson Hughes Endowed Scholarship, which provides financial support for OBU students preparing for the pastorate or music ministry.

"This is a very significant gift, and we will be good stewards of it," said Dr. Mark McClellan, dean of the School of Christian Service. "The real impact of this gift will be in the lives of countless numbers of students who will be educated and prepared for Christian ministry here at OBU in the School of Christian Service. This gift will impact the proclamation of the Gospel, the exposition and preaching of the Word of God, making disciples, the growth of the church, global missionary outreach, and the impact of churches on our communities and culture. The scholarships for church ministry students and the position of a chair for a professor of church ministry will be invaluable."

Born in Tillman County, Oklahoma, in 1897, Alter Eli Hughes was a Southern Baptist pastor and missions leader in Oklahoma and Texas. He followed a call to ministry which came after he began a career in agriculture. He attended Decatur Baptist College (now Dallas Baptist University) in Decatur, Texas, and Southwestern Baptist Theological Seminary in Fort Worth. In 1917 he married Dora Johnson in Elbert, Texas. He died in 1958.

Faye Hughes Van Sickle was 8 years old when her father began training for the ministry. She graduated from high school in Byron, Texas, and earned an associate's degree from Decatur Baptist College. She attended OBU as a member of the Class of 1947, and also attended the University of Hawaii. She taught grade school near the southwest Oklahoma towns of Frederick and Hollister before moving to Fort Worth, Texas, with her husband, Col. Charles T. Moreland. She fulfilled her goal of becoming a licensed private pilot, and was employed by General Dynamics for 20 years, attaining the rank of aircraft design engineer.

Col. Moreland died of natural causes in 1980. In 1987, Faye married Maj. Gen. Neil Van Sickle, acquiring nine grandchildren and 17 great-grandchildren. The couple settled in Kalispell, Mont., where she was a member of the Bethlehem Lutheran Church. She died in Kalispell on Jan. 13, 2010, at the age of 85. Throughout her life she remained close to her family, including her brother, Wayne Hughes, of Frederick; her nephew, J. Randy Hughes, of Noble, Okla.; and her nieces, Elaine Kennedy of Pauls Valley, Okla., and Paula Carpenter of Denton, Texas.

Van Sickle's family described her as a Christian woman who was tenacious, generous, long-suffering, dependable, compassionate, graceful, beautiful, elegant and tough.

"The entire family is to be commended, and we are so grateful to Gen. Van Sickle and Faye's relatives for their investment in the lives of our students," OBU President David W. Whitlock said. "Faye sounds like one of the most remarkable women I've ever heard about - a design engineer, pilot, and Gen. Van Sickle tells me she was also a motorcyclist."

"It has been such a pleasure to work with Faye's extended family," said Bill Holley, OBU associate vice president for university advancement, who worked with the family to establish the gift. "She was obviously loved by all of them. Her concern to honor the memory of her own parents represents a 'statement' of the kind of person she really was."

Will Smallwood, OBU's vice president of advancement, said the gift represents an eternal impact on the kingdom of God by providing means for future generations to prepare for the gospel ministry, as well as creating a tribute to Van Sickle's priorities.

"There will be people in the kingdom of God who Faye never knew who will be there because of her legacy," said Will Smallwood, OBU vice president for university advancement. "This represents the impact of what Faye's life has meant beyond life on this Earth."

Van Sickle's brother, Wayne Hughes, said his family loves and values the university, as indicated by the family members who have attended OBU. He said he thinks OBU can offer students what is important: an education in a Christian environment that is small enough for students to get to know their classmates.

"I hope OBU continues to do what OBU does: to teach young people how to live," Hughes said. "I think my family is a good example of that."