Global Missions Leader Avery Willis Dies
July 30, 2010
Dr. Avery T. Willis, a global missions leader and 1956 Oklahoma Baptist University graduate, died Friday, July 30, at his home in Bella Vista, Ark., after being diagnosed with leukemia in January. He was 76.

"Dr. Willis was a marvelous servant of God with an unmatched passion for global missions," said OBU President David W. Whitlock. "At his core he was simply a man who truly loved and served the Lord, and only heaven will reveal the true impact of his life."

Willis maintained close ties to his alma mater. The university's Global Outreach Center, which opened in 2005, is named in his honor. He served in an advisory capacity with the center and was a member of the center's advisory board.

"You could not be with Dr. Willis for even a few minutes without hearing his passion for reaching those in our world who have never heard the name and message of Jesus," Dr. Whitlock said.

"This is a loss for the Willis Center," said Dale Griffin, OBU's dean of spiritual life. "Dr. Willis is more than the namesake for our global outreach center. He is a dear friend who cared for and inspired those around him. He was a visionary leader in global missions and we are grateful to have his name attached to our center as we carry forward work toward fulfilling that vision."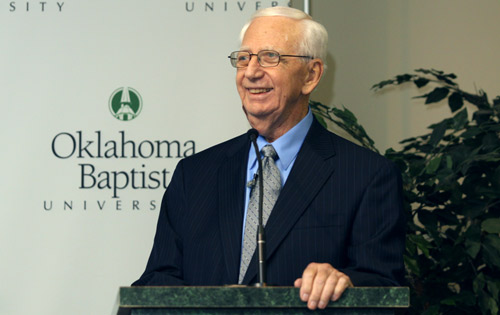 In the midst of treatment for leukemia, Willis spoke at a banquet in his honor on the OBU campus March 4, 2010.

In early January 2010, Willis announced he had been diagnosed with leukemia. While undergoing treatments in Texas and Arkansas, he continued to be involved in launching new global missions endeavors, and participated in the Southern Baptist Convention annual meeting in Orlando, Fla., in June. During the spring, doctors determined the cancer was in remission. However, according to his caringbridge.com website, on July 18 he was told the leukemia "was no longer in remission." His son, Randy Willis, posted a message on the www.caringbridge.com site early July 30:

"My dad graduated to Glory early this morning, July 30. He died peacefully, without pain or anxiety. My mom, sisters and brother were with him. I thank each of you that have visited, called, written and prayed over his past seven months. Your words of encouragement meant so much to him and to all of us. What a privilege to hear of the lives he impacted during his 76 years. May that influence extend through the generations.

"My dad's life verse was Psalm 71:17-18, 'Since my youth, O God, you have taught me and to this day I declare your marvelous deeds. Even when I am old and gray, do not forsake me, O God, till I declare your power to the next generation and your might to all who are to come.' And so he did."

Willis is survived by his wife, Shirley (Morris) Willis, a 1956 OBU graduate; three sons, Randy, Wade and Brett; two daughters, Sherrie and Krista; 15 grandchildren; and one great-grandchild.

Missions leaders from Southern Baptists and other global agencies gathered to honor Willis during a banquet titled "Tribute to a Vision" at OBU on March 4, 2010.

At that event, in the midst of medical treatment, Willis spoke for more than 40 minutes, challenging those present to carry on the task of global outreach.

Willis said that as a college student he made an agreement with God: "I am so ordinary. If you do anything with my life, you will have to get all the credit." Through a distinguished career, Willis worked around the world, envisioning plans that would eventually lead countless people to faith in God, followed by deeper discipleship opportunities.

"Avery is, without question, the greatest visionary I have ever met," said Dr. Tom Elliff, a fellow Southern Baptist leader. "He has an incredible sense of vision and can communicate that vision better than anyone else."

"I can think of no finer graduate to point to than Avery Willis," said Whitlock at the event. "There is no question that because of his leadership, OBU continues to lead in the number of graduates who serve as international missionaries. More OBU graduates serve than from any other university in the world."

A native of Lepanto, Ark., Willis earned master of divinity and doctor of theology degrees from Southwestern Baptist Theological Seminary in Fort Worth, Texas. He also received honorary doctorates from OBU and Southwest Baptist University in Bolivar, Mo.

He and his wife served as Southern Baptist missionaries to Indonesia for 14 years before returning stateside in 1978. He served as director of discipleship programs for the Baptist Sunday School Board (now LifeWay Christian Resources), developing the MasterLife discipleship materials which have been translated into 50 languages and used in 100 countries around the world.

In 1993, Willis became senior vice president for overseas operations at the International Mission Board, overseeing the work of the board's entire missionary force around the world until his retirement in 2004.

After retiring to Bella Vista, Ark., Willis continued active work in missions, traveling internationally approximately 25 weeks per year. He has served as a consultant to the Southern Baptist Convention's Great Commission Task Force. He also served as a consultant to missionaries, as well as chairman of Epic Partners, a coalition of global missionary organizations, including the IMB, Wycliffe Bible Translators, Campus Crusade for Christ and Youth With A Mission.

"As is always true in Avery's life, he had the world in his eyes and in his heart," said Dr. Jimmy Draper, retired president of LifeWay Christian Resources, in March.

Dr. Jerry Rankin, president of Southern Baptists' International Mission Board, attributed much of the planning and decisions still made at the IMB - as well as other accomplishments during his tenure as IMB president - to Willis' mission for global advance of the Gospel.

Rankin said Willis possessed a vision which was unsurpassed as he visualized an entire world worshipping Jesus Christ, a focus which kept the IMB from being diverted by trivial pursuits, and a passion that enabled Willis to motivate and inspire others. He said, like Abraham, Willis never lived for selfish gain but was willing to sacrifice so everyone may come to faith in Christ.


Noting 70 percent of the world's population is functionally illiterate, Willis served as executive director of the International Orality Network, a partnership of major missions organizations committed to using oral strategies such as "chronological Bible storying" as a means of evangelizing and discipling oral learners. Willis said his heart to reach the functionally illiterate focused also on North America and the 80 million people who don't speak English at home.

"For some reason, God began to turn my heart toward home," Willis said.

At the banquet in March, Willis challenged those in attendance to keep pressing on in global outreach.

"How are you going to stand before God and say, 'We did everything we could to reach these people for Christ?'" he asked. "I am more excited about what God is about to do than I was about MasterLife. I have a deep conviction God is about to do a mighty work."

"What do we do with the days we have left - whether we are gray-haired or just beginning to shave?" he said. "What are you going to do to make disciples of all nations?"