O'Gwynn Receives Meritorious Service Award
June 10, 2010
Marty O'Gwynn, a longtime staff member, received Oklahoma Baptist University's Meritorious Service Award during the university's Centennial Spring Commencement May 15.

The Meritorious Service Award is one of three major university honors presented during the spring graduation ceremonies each year. The award honors a faculty or staff member who has "made a substantial commitment of years, service, and who has been a loyal and faithful faculty or staff member."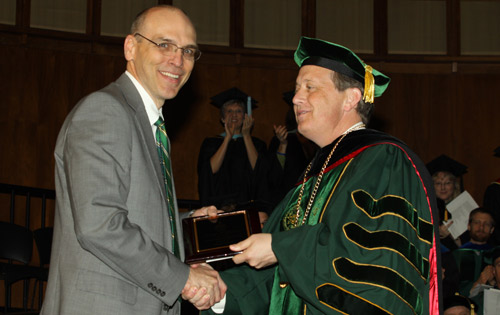 Marty O'Gwynn (left) receives OBU's Meritorious Service Award from President David Whitlock during the university's recent spring Commencement May 15.

O'Gwynn joined OBU in 1991 as director of public relations. He moved to the alumni office in 1996 and served as the executive director of the OBU Alumni Association from 1996-2005. After his stint in the alumni office, he returned to the public relations office where he supervises a staff of five who handle all the communication duties for the university.

In presenting the award, OBU President David W. Whitlock said that O'Gwynn is, in many ways, the face of the university as he decides what to say and how to say it in order to put OBU in the best light possible.

"In times of crisis, he advises presidents and other OBU leaders and calmly presents the OBU vision to the world," Whitlock said. "He has been the volunteer voice of the Lady Bison basketball team for nine years and works tirelessly with the Bison Athletic Association. He willingly prepares PowerPoint presentations for a multitude of campus activities whether they are related to his department or not."

O'Gwynn grew up in Central Florida and earned a bachelor of arts degree in journalism from Baylor University. He completed a master of arts degree in communication from Southwestern Baptist Theological Seminary in 1986. His career in higher education began in September 1986 as media services coordinator for Palm Beach Atlantic College. He moved to Shorter College in Rome, Ga., in late 1987 as director of public relations, then moved to Shawnee in April 1991.

He has served in various roles with District IV of the Council for Advancement and Support of Education, and currently is a member of the CASE commission for communications and marketing.

O'Gwynn and his wife, Deborah, are members of Immanuel Baptist Church in Shawnee. They have two sons, Andrew, a 2009 OBU graduate, and Timothy, a rising OBU junior.