McElroy Receives Distinguished Teaching Award
June 10, 2010
A leader of the cheer squad since 1990, Dr. Linda McElroy was cheered as a top award winner when she received the Distinguished Teaching Award during Oklahoma Baptist University's Centennial Spring Commencement May 15.

The highest honor for OBU faculty members, the Distinguished Teaching Award is presented annually to a professor who has "exemplified in his or her teaching career those characteristics of the superior instruction delineated in the 'Commitment to Excellence,' a statement of teaching expectations and objectives adopted by the faculty, administration, and the Board of Trustees."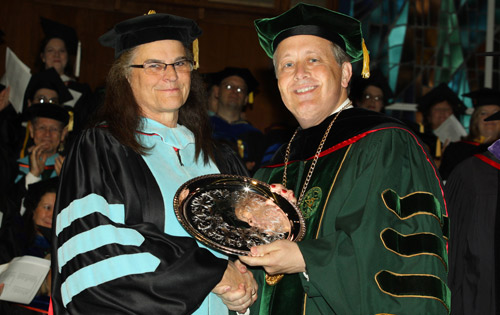 Dr. Linda McElroy receives OBU's Distinguished Teaching Award from President David Whitlock during the university's Centennial Spring Commencement May 15.

McElroy joined the OBU faculty in 1990. She serves as a professor of kinesiology and leisure studies and cheer coach. She received senior faculty status in 1995.

As he presented the award, OBU President David Whitlock said McElroy is an exemplary instructor who models organization, research, classroom management, instruction technique and the myriad of other qualities it takes to be a master teacher.

"Her efforts are multiplied many fold as she trains students to become teachers," he said. "She connects with students. Almost daily, you will find her counseling with a student about issues in and out of the educational realm. She loves the unloved and works diligently with students who struggle academically. She gently guides them through a rigorous curriculum so they can experience success.

"She is a master teacher who shares her knowledge and expertise as well as her heart and soul with her students time and time again."

McElroy earned a bachelor's degree from Indiana State University, a master's degree from Purdue University and a doctorate from the University of Utah.

She has made numerous presentations on topics including nutrition for athletes, fitness/wellness, family bereavement, homemade physical education equipment, blood-borne pathogens, women's issues, stress management and cheer coaching.

She is a member of the Oklahoma Association of Health, Physical Education, Recreation and Dance and the American Alliance of Health, Physical Education, Recreation and Dance. She was named Outstanding Physical Education Faculty Member at Oklahoma State University in 1984, and named to Who's Who in America's Young Women in 1982.