Students Share Hope through Spero Project
May 6, 2010
Oklahoma Baptist University students devote time each week to serve refugees in Oklahoma City through the Spero Project, an organization named for the Latin word for "hope." The refugees, who come from countries all over the world such as Myanmar, Iraq, Afghanistan, Democratic Republic of the Congo, Sudan and Eritrea, have been resettled into an apartment complex.

Spero Project - pronounced like "sparrow," the bird which is a symbol of hope - ministers to refugees every day. The program provides conversational English tutoring on Tuesdays, homework help four days a week, classes to develop skills that women can transfer into ways to help provide income for their families, and more.

"Spero Project assists them with language acquisition, job and interview skills, basic life skills and anything else they need," said Sara Scott, a senior from Harrah, Okla., who chairs the OBU Spero volunteer team. "We go on Thursday nights to provide tutoring, play with the kids and develop relationships with the families."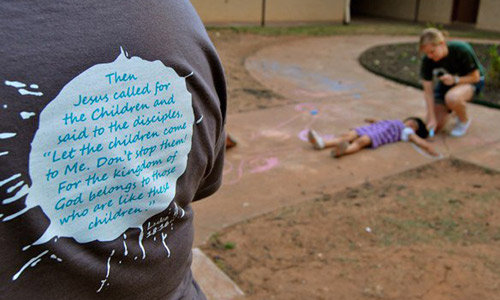 Oklahoma Baptist University students draw chalk pictures with children and find other ways to share God's love and hope as volunteers in the Spero Project refugee ministries.

OBU became involved in this project in April 2009 with the support of the Avery T. Willis Center for Global Outreach. A group of 10-15 OBU volunteers serve the refugees each week. The project was founded by OBU alum Brad Bandy, a 1998 graduate, and his wife, Kim. Bandy earned a bachelor's degree in cross-cultural ministry and anthropology from OBU.

"We feel a deep respect for the individuals and their families who have taken the long journey to arrive in America," Bandy said. "Being among the few who survive war, famine, torture and then gain International Refugee status, they deserve more than to simply arrive here 'safe.' Rather, their perseverance and strength must be valued, engaged and developed into a force that changes their communities both here and in their home countries. After risking their lives for a future, the question to us is 'what will come of that life?"

Spero Project is divided into four ministries: Resource, Legacy, Voice and Aspire. Each division has a clear mission and goal.

The Resource ministry is committed to providing assistance to those living in poverty, encouraging the local church to aid in an individual's development, both physically and spiritually, while responding to them with respect and compassion. Volunteers involved in this sector spend time with the food pantry and clothing center as well as praying for, and building relationships with, those in need.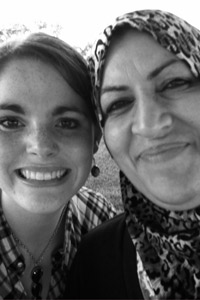 Sara Scott (left), an OBU senior from Harrah, Okla.,

pauses for a photo with her friend Nehaya, an

international refugee involved in the Spero Project.

Scott leads her classmates to minister to the refuges

through the Oklahoma City program.

Spero created the Legacy division to network with local churches and communities to meet the needs of children in foster care and adoption system in Oklahoma. The team partners with local and global awareness and service agencies to help individuals understand the options of foster care and adoption and how to utilize the services. Spero Voice serves International Refugees from war-torn regions across the globe who have been relocated to safety in Oklahoma City. The volunteers seek to connect the network of resources in the local community with the needs of the population, all the while trying to be a voice to the voiceless.

Aspire exists to network organizations and individuals working on behalf of marginalized women and their children across the globe, knowing that working together brings more effective results and a deeper hope for those living in oppression and fear to aspire to a better life.

For more information on ways to become involved with this mission, go online to http://www.thesperoproject.com/.