Raley Reminds Grads To Rely On Faith and Love
May 15, 2010
Urged by a member of the university's most revered family to rely on faith and love, 244 Oklahoma Baptist University graduates received their diplomas during OBU's Centennial Spring Commencement on Saturday, May 15.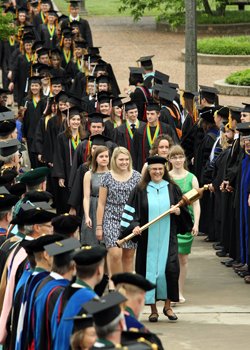 Before an overflow audience of more than 1,800 in OBU's John Wesley Raley Chapel, the graduates heard from the son of the chapel's namesake. Dr. John Wesley Raley Jr. grew up on the university's campus while his father was OBU president from 1934-61.

For chapel messages, follow this link. 

The elder Raley's presidential tenure is the longest in the university's 100-year history. The younger Raley, a 1954 OBU graduate, recalled how his parents arrived at an institution "on the brink" of collapse in the midst of the Great Depression.

"Through dust, debt, depression and war, my father and my mother ... by sheer determination, enormous energy, armed by boundless faith, kept this school alive," Raley said. "Today, this incredible story of OBU is part of your tradition."

Raley compared current events with the struggles OBU faced during his childhood. Relating advances in navigational tools - from his use of a sextant in the 1950s to his wife's use of a GPS today - he told the graduates, "it is a given, therefore, that you already know, generally, the fix we're in."

Citing the global economy, national debt, unrest in the Middle East, political correctness, and media coverage of celebrity news as examples of modern problems, Raley said there are "two twin towers of strength, two immutable, everlasting, rock solid, omnipresent sources of strength for this generation and beyond."

The former U.S. attorney for the eastern district of Oklahoma drew from American history to stress the strength of faith.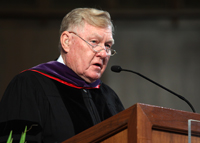 "There is much that is right about America," Raley said. America is unique among the nations of the world. We should unapologetically take justified pride in the unique nature of our country.

"Each generation of Americans has had its moment of greatness," he said. "Each has demonstrated the willingness to stand firm.

"Loyalty to the cause or mission by strong and inspired individuals is a major part of our heritage. A first century Jewish lawyer set an example for 2,000 years of Christian faith," he said, quoting the Apostle Paul's statement in II Timothy 4:7: "I have fought the good fight ... I have kept the faith."

"Those of you who stand today in the bright golden sunlight of morning ... heed the call ... keep the faith," Raley said.

In explaining the second "tower," Raley said, "Faith is how we know where we're going. Hope is what keeps us going. Love is how we get there. While that kind of love is beyond mortal man, there are some things we believe and know by faith."

Weaving from the creation of the world through the life of Jesus Christ, Raley said God has provided the opportunity for individuals to decide to have a relationship with him.

"Our God is a God of incomprehensible mercy, compassion and love, and that divine love is a second tower of strength," he said.

Raley urged the graduates to continue their personal ties to OBU.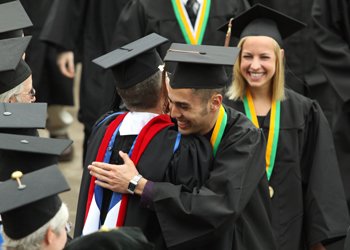 "Resolve that the Bison Spirit you shared will remain in your heart," he said. Then, through the hush of fading day, pause and whisper a prayer that the memories shared in this home will always be a part of your life, that the friendships forged will continue, and that God will continue to bless OBU."

Senior Class President Kyle Coleman echoed Raley's words, stating, "Our time here has made for us a connection that expands far beyond this place."

In presenting the class for their diplomas, Coleman reminded them of the transition they were experiencing.

"As you wake up on Monday morning and realize that summer break is what everyone else calls "life," remember that you have 243 other people by your side who are realizing that very same thing," he quipped.

As members of OBU's Centennial Class, each graduate received a gold Centennial medallion prior to the graduation exercises.

OBU's top three awards for faculty and staff were presented during the ceremonies by OBU President David W. Whitlock.

Dr. Linda McElroy, professor of kinesiology and leisure studies, received the Distinguished Teaching Award, presented in recognition of "classroom excellence." McElroy joined the OBU faculty in 1990. She completed a bachelor's degree from Indiana State University, a master's degree from Purdue University, and an Ed.D. degree from the University of Utah.


Dr. Louima Lilite, assistant professor of music, received the Promising Teacher Award, presented to a faculty member who has taught at the university for less than five years and "shows great promise as a teacher." Lilite joined the faculty in 2008. He earned a bachelor's degree from Biola University, a master's degree from Pennsylvania State University, and a doctorate from Eastman School of Music.

Marty O'Gwynn, associate vice president for university communications, received the university's Meritorious Service Award. O'Gwynn joined the OBU administrative staff in 1991 as director of public relations. He also has served as executive director of the OBU Alumni Association during his tenure. He earned a bachelor's degree from Baylor University, and a master's degree from Southwestern Baptist Theological Seminary.


Three retiring faculty members and one long-time administrative staff member were honored during the service. Dr. Jim Hansford, Patterson professor of music and director of bands; Dr. Carol Bell, associate professor of music; Diane Shank, technical services librarian; and Peggy Askins, OBU registrar, were recognized. Hansford and Bell each joined the faculty in 1990. Shank joined OBU as a librarian in 1971. Askins has worked at OBU since 1960, including 47 years of service as the university's registrar.

In his charge to the graduates, Dr. Whitlock challenged them to be agents of change.

"Dare to walk in faith, believing God will use you to make a difference in this world," he said.

Spring Centennial Commencement
The program also included recognition from the Baptist General Convention of Oklahoma, which founded the university in 1910. Dr. Anthony Jordan, BGCO executive director, congratulated the graduates, noting that Oklahoma Baptists had invested more than $11 million in support of the university during their four years on the campus.

The graduating class included 26 seniors who earned the academic predicate "summa cum laude" for maintaining at least a 3.95 grade point average on all work completed for their bachelor's degrees. Those honored received academic hoods during the ceremony. Honorees include Carolyn M. Barton, Flagstaff, Ariz.; Spring Brook Butler, Grapevine, Texas; Taylor Michael Byrum, Bentonville, Ark.; Andrea Leigh Gates, Plano, Texas; Morgan Annastasia Gordon, Purcell, Okla.; Laura Beth Griffin, Bartlesville, Okla.; Lindsay Barrett Inman, Peyton, Colo.; Lauren Katherine Kamp, Edmond; Annie Marrie Keehn, Kansas City, Mo.; Melissa Joy Krauss, Wasilla, Alaska; Karissa Marie Manning, Southwest City, Mo.; Andrew Owen Melton, Oklahoma City, Okla.; Joshua C. Mugler, St. Peters, Mo.; Malerie Michael Nelson, Sherman, Texas; Stacie Elizabeth Newton, Cherokee, Okla.; Cody Lee Oldacre, Talala, Okla.; April Renee Peters, Oklahoma City, Okla.; Anne Marlene Risch, Topeka, Kan.; Stephanie Nette Robbins, Farmington, Ark.; Da-Nell Anne Rogers, Casa Grande, Ariz.; Brent Alan Schmidt, Bartlesville, Okla.; Brianna Janelle Shippy, Odessa, Mo.; John David Stephens, Tulsa, Okla.; April Janelle Wallace, Sparks, Okla.; Lydia Marie Wanger, Stillwater, Okla.; and Elisabeth Esther Wright, Wichita, Kan.