Centennial Nursing Graduates Awarded Pins
May 14, 2010
In an act symbolizing the transition from student life to professional work, 47 Oklahoma Baptist University nursing students participated in the Centennial Nurses' Pinning Ceremony Friday, May 14. The Centennial class is the largest graduating cohort of nursing students in the program's history.



Lee Youngblood, a 1977 OBU nursing graduate and a registered nurse, delivered the pinning ceremony address. Youngblood mused on changes the world has seen in the 33 years since his graduation. He noted changes in technology, healthcare and even pop culture.

While many things change over time, Youngblood said, there are still some things which never change.

"People still get sick, people still need to have surgery and people still do crazy things to injure themselves," Youngblood said. "Compassion and caring are still a big part of what we do. Patients still expect someone that cares for them ... and I have seen that nurses are the best prepared to do that."

In spite of the inevitable changes which the graduates will face, they will always have a role as a nurse, Youngblood said.

He concluded his comments by offering advice to the graduates as they embark on their careers as nurses. He encouraged them to let God be their guide, to build upon the foundation provided to them at OBU, to implement the principles they have been taught, and to continue pursuing their education beyond Bison Hill.

OBU President David Whitlock began the ceremony by commending the graduating class.

"You are about to embark upon a career that, quite frankly, is about as close to our mission statement as any other program," Whitlock said. "Nursing is an area in which your faith is so married to what you are accomplishing in your profession. You are about the healing ministry. You are about meeting people at their point of need. You are about ministering to the hurting, to the sick and, many times, the lonely and discouraged. Godspeed as you carry out God's calling on your life."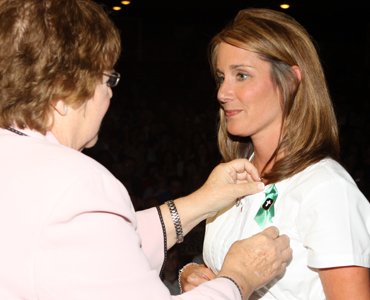 Designed by the Class of 1956 - the university's first class of nursing graduates - the OBU Nursing pin is awarded to graduates by Dr. Lana Bolhouse, dean of the School of Nursing. The pin features a white Roman cross centered on a black background. Graduates were individually introduced by assistant professors of nursing, Dr. Jasmin Johnson and Gerry Milligan, pinned by Bolhouse and given a single yellow rose by Valarie Watts, assistant professor of nursing.

Krista Ranck, instructor of nursing, delivered the charge to the students. Ranck challenged them to consistently seek God's guidance in their careers.

"You are fast approaching the time when your nursing judgment will be utilized," Ranck said. "You will see things and take care of patients that will challenge you. But all the time remember, that as a child of God, the Lord goes before you and protects you from behind. He's all around you and within you, whether you feel like he is or not. He is there and he is looking to manifest himself to others through you. Your future patients are waiting to catch a glimpse of God through you. So stay close to him and seek his face, and always in every circumstance, pray."

Nursing seniors who received their pins included: Chanelle Nichole Anderson, Peyton, Colo.; Caitlin Christine Balmos, Meridian, Texas; Megan Nicole Bates, Euless, Texas; Elizabeth Anne Bilbrey, Garland, Texas; Olivia Ada Boissé, Shapleigh, Maine; Jennifer Belle Bowles, Norman, Okla.; Kelli Lynn Conaway, Shawnee, Okla.; Nicole Danica Davis, Shawnee; Sophia Constance Dimoulakis, Allen, Texas; Katie Mae Dominguez, Junction City, Ark.; Jackline G. Hanyor Duana, Midwest City, Okla.; and Rachael Lynne Duncan, Kailua, Hawaii.

Centennial Nurses' Pinning

Also receiving their pins were Aubrey Ann Fait, Arvada, Colo.; Mitchell Lewis Frank, Bentonville, Ark.; Tara Christine Galbraith, Norman; Tara Danielle Garrison, Liberty, Mo.; Michelle Ann Gettel, Tulsa, Okla.; Melissa Haden Gillen, Bella Vista, Ark.; Jacob Wayne Gipson, Blanchard, Okla.; Laura Beth Griffin, Bartlesville, Okla.; Bethany Amber Haines, Overland Park, Kan.; Whitney Nicole Henderson, Oklahoma City; Kristen Nicole Holloway, Glenrock, Wyo.; Tarah Janelle Hoover, Bedford, Texas; Elizabeth Christine Hubanks, Sayre, Okla.; Molly Ruth Jeffers, Tulsa; and Lauren Katherine Kamp, Edmond, Okla.

Others honored with pins included Mattie Elizabeth LeMay, McLoud, Okla.; Samantha Lauren Locke, Lake Dallas, Texas; Scott Andrew Meyers, Sherman, Texas; Amy Elizabeth Miller, Lucas, Texas; Christina Faye Anne Murcer, Mustang, Okla.; Amy Lea Naftzger, Broken Arrow, Okla.; Kari Dawn Nicholson, Wichita, Kan.; Nancy W. Njoroge, Edmond; Garrett Booher Parker, San Luis Obispo, Calif.; Kaitlin Nicole Parrish, Choctaw, Okla.; Caitlin Faye Pierce, Wichita; Abby Elizabeth Raney, Shawnee; Lynsi Graham Rhodes, Edmond; Kelly Elizabeth Scatton, Lake Forest, Calif.; Paula Janise Smith, Oklahoma City; Jennie Joy Shepherd, Oro Valley, Ariz.; Meghan Kathleen Stehlik, Edmond; Amy Renee Tupper, Winlock, Wash.; Hayden Lynn Walker, Almont, Colo.; and Worthy Shalom Walker, Shawnee.

The nursing graduates will receive their bachelor of science degrees during OBU's Centennial Spring Commencement at 10 a.m. Saturday, May 15, in Raley Chapel.