God's Will is No Mystery,' Winterberg Says
April 28, 2010
While some Christian believers seem to flounder searching for God's plan for their lives, God makes his will quite plain in the Bible, said director of Oklahoma Baptist University's Avery T. Willis Center for Global Outreach (name has been omitted for security purposes).
OBU global outreach coordinator shared his perspective with OBU students during a chapel service dedicated to commissioning the 200-plus OBU students who will engage in missions or ministry during the upcoming summer. The service was conducted Wednesday, April 28, in Raley Chapel's Potter Auditorium.
"I want you to recognize that the challenge of Scripture is that, from the point of salvation, we've been called," OBU global outreach coordinator said. "We've been called as children of God to be globally engaged, Great Commission focused and servant-hearted. So that is my prayer for you today: that you will leave this place, as you go out this summer, to be challenged to live that out."
Several students and faculty who participated in recent trips sponsored by OBU's Global Outreach Center shared testimonies of their experiences in mission endeavors in East Asia, South Asia, Mexico and Peru. All the trip participants encouraged their classmates to consider going on a future missions trip opportunity.
Dr. Alan Bandy, who serves as Rowena R. Strickland assistant professor of New Testament at OBU, accompanied the group to Peru. Bandy told of his experience in a jungle village along the Amazon where only 2 percent of the people have a relationship with Jesus Christ. He spoke of the team's opportunity to build relationships with the villagers through worship services and soccer games. He invited students to join the team when they return to Peru next January.
"Prayerfully consider going," Bandy urged the students, indicating his desire for a team that can incorporate medical service and sports with opportunities to share the Gospel.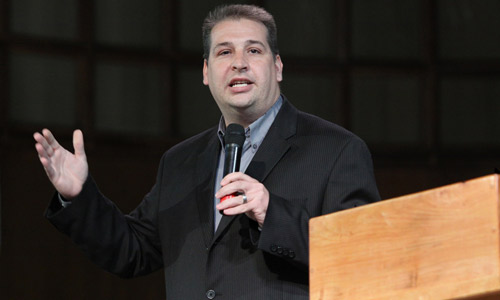 OBU global outreach coordinator charged students to remember -- particularly as they contemplate what God has in store for each of them specifically -- that all Christians are called to serve.
"One of the things that amazes me is how often we struggle to find the will of God, as though it's a mystery to us," he said. "One of the things I believe firmly about Scripture is that most of the time (God's) will is quite clear to us in it. He tells us how to live, and what to do, and what we're supposed to be about."
OBU global outreach coordinator quoted Isaiah 61:1, which reads, "The spirit of the Lord God is upon me because the Lord has anointed me to bring good news to the afflicted. He has sent me to bind up the brokenhearted, to proclaim liberty to captives and freedom to prisoners, to proclaim the favorable year of the Lord."
"Wherever you're headed this summer, my challenge to you is that you would accept that calling and you would live that out," he said.