Alum Plants Churches in Pacific Northwest
April 22, 2010
Oklahoma Baptist University alum Andy Stills took the skills he learned on Bison Hill to the Pacific Northwest, where he works in Portland, Ore., as a church planter. A church planter is someone who starts new churches in locations where one may not exist - and it has become a passion for Stills.

"In partnership with area churches and believers around the country, we are restoring the old Mt. Zion church building to be a thriving hub of community activity and spiritual resource for the people of northeast Portland," Stills said on his Web site, http://www.neportlandchurch.com/. Stills and his wife, Ela, are at the beginning of the journey of this particular church plant. But it is a road Stills has traveled since Bison Hill.

Following his graduation from OBU in 1997, Stills began working on a master's degree in biblical languages at New Orleans Baptist Theological Seminary, graduating in 1999. He went directly to Seattle, Wash., where he began his church-planting career.

Soon after planting his first church, however, Stills was involved in a car accident. He entered the business world as a contractor, property manager and mortgage lender for the next eight years to strengthen his financial situation. During his time in the business world, he continued to work with various church planters in the Northwest.

"Through this network of relationships, God helped us identify Portland as the place he was calling us to begin a new church," Stills said. "At the same time God was working in our hearts, he was working through local Portland churches to help secure a building and some of the initial funding we would need."

Starting a new church is a process involving a number of steps, and it requires a strong team to successfully complete a new church plant, Stills said. In theory, it involves identifying a planter/area, producing a prospectus, relocating a planter, raising funds, developing a core group, determining a meeting location, marketing the church and finally launching the church.

"We feel strongly that each church plant should be in the process of identifying leaders, equipping them and sending out future church planters," Stills said.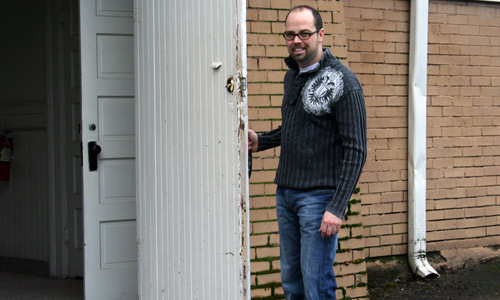 Andy Stills, a 1997 graduate of Oklahoma Baptist University, is a full-time church planter in the Pacific Northwest, beginning new congregations of Christian believers where one did not previously exist. Stills latest work is in Portland, Ore. (Photo by Sheila Allen, The Northwest Baptist Witness)

Stills has been involved in several major church plants. Among these plants are High Pointe Community Church in Puyallup, Wash., LifeChurch.tv in Oklahoma City, Okla., and Mars Hill Church in Seattle, Wash.

Stills credits his education at both OBU and New Orleans seminary as a significant factor in his success. While at OBU, he began to study both Greek and Hebrew under the instruction of Dr. Kevin Hall, OBU professor of religion. He also developed entrepreneurial leadership skills under the leadership of Odus Compton, OBU director of church relations.

"Dr. Bob Agee, former OBU president, exemplified to me what it means to care for and lead a Christ-centered organization," Stills said.

In the future, Stills plans to expand the outreach of church planting by assisting others in the process through on-the-job-training, team building and the involvement of interns.

"Church planting requires hard work, late nights, overcoming disappointments and frustration, great patience and, most of all, a dedication to God's call to have an incredible love for people who do not yet know Him," Stills said.

If you would like to know more about planting churches in Portland, contact Wes Hughes, North American Mission Board church planting strategist with the Northwest Baptist Convention, at nwbaptistwes@gmail.com Hughes is a 1990 OBU graduate from Boise City, Okla.

For internships with Andy Stills and Restoration Church, e-mail Andy@churchrestored.org or call (503) 928-4471.