Students Reflect on Peru GO Trip Experience
March 23, 2010

Oklahoma Baptist University students and their faculty sponsor who traveled to Peru for a missions endeavor during OBU's January Term recently reflected about their life-changing experience in South America.

OBU's Avery T. Willis Center for Global Outreach sponsors several trips annually, allowing students to gain a firsthand knowledge of missions work around the globe and to broaden their personal worldviews. The group which traveled to Peru Dec. 28, 2009, to Jan. 21, 2010, included Dr. Alan Bandy, Rowena R. Strickland Assistant Professor of New Testament; Janeth Carreon, a junior from Seminole, Okla.; Brittany Mason, a freshman from Allen, Texas; Malerie Nelson, a senior from Sherman, Texas; Clay Phillips, a junior from Heavener, Okla.; Caroline Reel, a freshman from Tishomingo, Okla.

During the debriefing, the students discussed how the trip impacted them personally and as a group.

"I think the biggest thing it did was force me to have 100 percent trust in God all the time, whether it was through wrestling with the demonic forces there or just trusting that no matter what happens, He's in control,"Phillips said.

"Being surrounded by faculty and students who live out Christ and honor Him with their hearts rather than their lips, it helps hold one accountable to live that same calling as a family member in the body of Christ. So going abroad to share the Gospel doesn't become a change of who you are as a person, but rather just a change in location."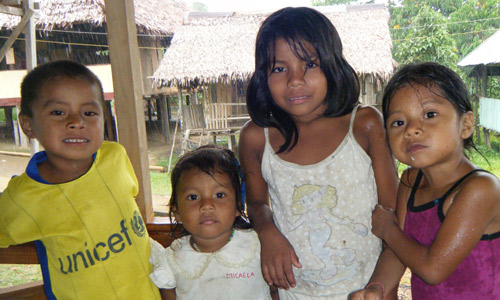 Children in Peru pause for a photo taken by Oklahoma Baptist University students who visited their country during January Term on a trip sponsored by OBU's Avery T. Willis Center for Global Outreach.
During the trip, the team realized that they were building an attachment to the people of Peru and their culture. Living and serving with one another all day, from sun up until sun down, team members began to understand the Peruvians way of living and how hard they work to complete many tasks.
"Our main purpose was to build relationships with the people, learn about their culture and lay a foundation for the Gospel through chronological Bible storying," Bandy said. "Our days consisted of working alongside the people as they went about their daily tasks of clearing fields to plant yucca, carrying logs from deep in the jungle to build a new hut and whatever we could find to do along with them. The ladies were able to begin a Bible study with several women in the village, which turned out to be a major blessing to all involved."
While the Amazon was not an easy place to live in for weeks at a time, team members set their minds on aiding and teaching the people.
"We live in a very diverse world, and we must learn from it," Bandy said. "There is nothing like actually visiting another country and developing relationships with the nationals to broaden your perspective of the world. It will definitely change you, and hopefully your impact would be positive," Bandy said.
The students lived out OBU's mission statement, which says the university transforms lives by equipping students to pursue academic excellence, integrate faith with all areas of knowledge, engage a diverse world and live worthy of the high calling of God in Christ.
Throughout the trip, Phillips said, students found an opportunity to "live out Christ in the villages we stayed at and, through that, communicate the Gospel to unbelievers, and help strengthen believers in fellowship and training of the Word."
For more information about the Avery T. Willis Center for Global Outreach, click here.