Graduate School Celebrates Nursing, Business Cohorts
March 9, 2010
The Oklahoma Baptist University Graduate School celebrated the completion of master's degree coursework in nursing and business for 16 graduates during luncheons and a Commencement ceremony Saturday, March 6, on the Shawnee campus.

OBU Graduate School nursing pins were awarded to the first cohort, to earn the university's master of science in nursing degree. The pins were presented to the 12 graduates during a luncheon ceremony by Dr. Lana Bolhouse, dean of the OBU School of Nursing, Dr. Claudine Dickey, director of residency programs and retired dean, and Dr. Robbie Henson, professor of nursing.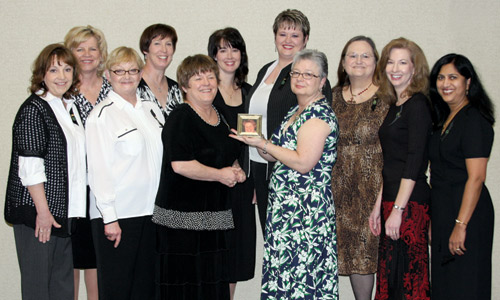 The 12 graduates who received their received master's degrees in nursing included (front, from left) Brenda Lomas, Zoe McPherson-Rosenquist, Cathie Sales, Snoma Headrick, Shelley Miller, Mercy Mathew, (back, from left) Cathy Dirickson, Kim Robberson, Dawn Westbrook, Karyl James and Sharon Brundage. Not pictured is Nancy McStay.

Dr. Scott Harris, director of the OBU Graduate School, said the group comprising the first cohort has made OBU very proud. He quoted Proverbs 22:1, which states, "A good name is to be more desired than great wealth, favor is better than silver and gold."

"One thing has always been true of this group: the faculty and staff have always spoken well of you," Harris said. "Your cohort has a good name. You have set a high bar of excellence."

Graduates receiving master's of science in nursing degrees included Sharon Brundage from Shawnee, Okla.; Cathy Dirickson from Edmond, Okla.; Snoma Headrick from Hinton, Okla.; Karyl James from Oklahoma City; Brenda Lomas from Choctaw, Okla.; Mercy Mathew from Choctaw; Zoe McPherson-Rosenquist from Iowa Park, Texas; Nancy McStay from Midwest City, Okla.; Shelley Miller from Guthrie, Okla.; Kimberli Robberson from Edmond; Cathie Sales from El Reno, Okla.; and Dawn Westbrook from Shawnee.

During a luncheon in their honor, MBA degree graduates were challenged to continue learning.

"Actively continue to seek knowledge," said Dr. Robbie Mullins, OBU's Peitz professor of business. "Knowledge comes from lifelong learning, so you are officially enrolled now in a lifelong learning assignment. It's not really a luxury. It is a requirement. It has become part of who you are."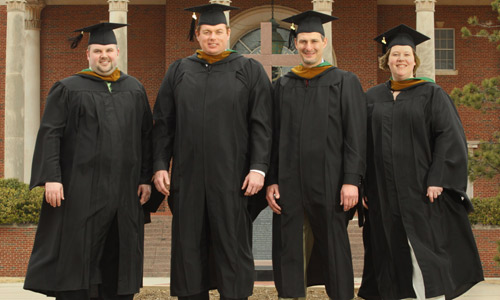 The MBA graduates included (from left) Corey Burnett, Wade Harelson, Kyle Pewitt and Mitzi Khettouch.

Graduates receiving master of business administration degrees included Corey Burnett from Norman; Wade Harelson from Okemah; Mitzi Khettouch from Oklahoma City; and Kyle Pewitt, also from Oklahoma City.

Pewitt noted the graduate program's emphasis on integrating academic preparation and spiritual formation.

"I will always be grateful for how much kingdom-mindedness OBU has woven into the MBA program," said Pewitt. "That played out in every element of our studies, and there was always an eternal focus in what we were doing."

Presenting the Commencement address, Dr. Carla Sanderson, provost of Union University, told the graduates that, as Christian believers, they have been appointed as heralds of the truth as they continue their careers in both nursing and business. She encouraged them to work toward fulfilling the last two clauses of the OBU's mission statement: to be prepared to engage a diverse world and to live worthy of the high calling of God in Christ.

Graduate School Commencement
As they encounter skeptics, Sanderson challenged the graduates to confront questions of unbelief about God from a point of faith. She said both professionals in nursing and in business will be expected to know answers to why God allows tragedy or unethical behavior in the world.

"The truth of Easter is the answer for evil and suffering in the world," she said. "Christianity doesn't provide the reason, but it provides great resources for dealing with the brutal realities of life on Earth. Jesus Christ provides hope that suffering and loss are not in vain."

Sanderson said the graduates are leaders, and "leader" can be defined as "a dealer in hope" and "a steward of one's influence." Referring to 1 Timothy 2:5-7, she said the graduates have been appointed to be heralds - or messengers - of the hope found in Jesus Christ.

"God uses suffering for His good purposes in us," she said. "That's a message you will find yourself in a prime position to share."


For chapel messages, follow this link. 

In his charge to the graduates, OBU President David W. Whitlock encouraged the graduates to move forward in their work with both hope and courage, using what they have learned as foundational blocks on which to build the rest of their lives.

"Determine to serve your fellow man with an informed caring," Dr. Whitlock said. "Dare to walk in faith believing that God will use you to make a difference in the world. Strive for excellence and quality in every area of your life. Dare to be genuine. Dare to be good."

The program also included special music presented by Evan Aldridge, a 1989 OBU graduate.

For more information about the OBU Graduate School, click here.