Biology Students Study in Costa Rica
March 12, 2010
Biologist Dale Utt and a group of six Oklahoma Baptist University students spent 10 days during January Term exploring the rainforest as part of the Tropical Ecology and Biodiversity of Costa Rica class. Dr. Utt is associate professor of biology at OBU.

The group first visited the Quetzal Education Research Center, located in the cloud forests of San Gerardo de Dota, to study high altitude rainforest ecology. They also explored a warm, lowland rainforest at La Selva Biological Research Station managed by the Organization for Tropical Studies, a consortium of international universities dedicated to the study of tropical ecology. Lastly they surveyed an active volcano, experienced thermal hot springs and traveled through the rainforest canopy surrounding Volcan Arenal, the most active volcano in Costa Rica.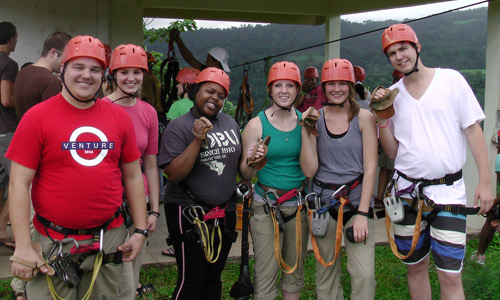 OBU students in Dr. Dale Utt's Tropical Ecology and Biodiversity of Costa Rica class prepare to experience the canopy on zip-lines in the tropical country during a January Term field trip. The students include (from left) Eric Beckett, Lauren Jordan, Heidi Perry, Audrey Walcher, Meredith Vernon and Justin MacDonald.

Students hiked miles of trails through the forest at each site, experienced the canopy on zip-lines spanning the sides of a tropical gorge, and observed wildlife such as howler monkeys, an anteater, coatimundi, poison arrow frogs, macaws, blue Morpho butterflies, leaf-cutter ants and the Yellow Eyelash Viper.

"The most exciting moment for me in Costa Rica was the zip line canopy tour," said Eric Beckett, a senior science education major from Rockwall, Texas. "We were just flying through the tree tops and we ended with repelling down a rock face. It was really fun."

The purpose of the trip was to give the science students a different perspective to their course and hands-on experience in the field of a tropical rainforest. The students were able to learn many different areas of the rainforest and how the people survived. There were numerous varieties of insects and creatures that the students had never seen.

"It broke up the monotony of having a regular class," Beckett said. "It got us out of our 'comfort zone' without making us uncomfortable."

Students who participated in the field trip included Beckett; Lauren Jordan, a junior from Paradise, Texas; Justin MacDonald, a junior from Brawley, Calif.; Heidi Perry, a senior from Houston, Texas; Meredith Vernon, a junior from Shawnee; and Audrey Walcher, a senior from Wellington, Kan.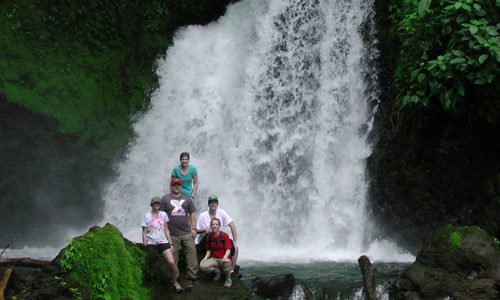 OBU students visit a waterfall at Arenal Volcano in Costa Rica during a field trip for Dr. Dale Utt's Tropical Ecology and Biodiversity of Costa Rica class. Students pictured are (from left) Meredith Vernon, Eric Beckett, Lauren Jordan, Justin MacDonald and Audrey Walcher.

Beckett noted he learned about the expansive biology of the tropical country by studying its tiny details.

"I learned that poison dart frogs are smaller than everyone might think," he said. "There is a huge biodiversity in Costa Rica."

The trip will also impact future courses on campus. Utt said experiences at both the rainforest and the volcano will be incorporated into OBU's environmental, botany and earth science courses.

The class is offered each J-term. Utt said for 2011, he anticipates the class will include a visit to Corcovado National Park on the Osa Peninsula, one of the most pristine tropical forests remaining in Central America. For more information about the class, contact Dr. Utt at (405) 878-2042 or dale.utt@okbu.edu.