Two Faculty Installed to Endowed Positions
February 1, 2010
Academic installations highlighted Oklahoma Baptist University's first chapel of the new decade Wednesday, Jan. 27, in the University's Raley Chapel. Two faculty members - Dr. Scott Pace and Dr. Alan Bandy - were installed to endowed academic positions in OBU's Joe L. Ingram School of Christian Service during the 10 a.m. event.

According to OBU Provost Stan Norman, endowed chairs and professorships are awarded to "select professors who are outstanding teachers and who have demonstrated exceptional ability in their academic disciplines. The gift which provides an endowed academic position is invested in the University's permanent endowment fund, and the annual earnings are used to assist with compensation."

OBU currently has 26 active endowed chairs and professorships.

Pace, who joined the OBU faculty in January 2010, was installed as the Jewell and Joe L. Huitt assistant professor of applied ministry. He served for more than a decade as a student pastor, associate pastor of doctrine and, most recently, as teaching pastor and administrator at the First Baptist Church of Daytona Beach, Fla. Pace previously served as a corporate accountant and in the private sector as a business manager.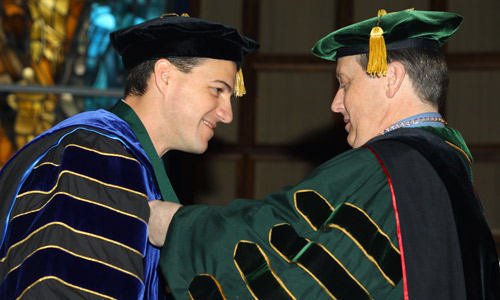 Dr. Scott Pace (left) receives a medallion signifying his installment as Oklahoma Baptist University's Jewell and Joe L. Huitt assistant professor of applied ministry from OBU President David W. Whitlock.

A native of North Carolina, Pace earned a bachelor's degree in accounting from North Carolina State University in 1997. He completed a master of divinity degree from Southeastern Baptist Theological Seminary in 2002 and earned a Ph.D. degree in applied theology from the seminary in 2007. From 2003-05, he served as a teaching fellow for Dr. Bill Bennett, professor of preaching and chaplain at Southeastern seminary.

Joe and Jewell Davis Huitt were married in 1928. Both attended Southwest Missouri State Teachers College in Springfield. They taught in a small country school in Stone Hill, Mo., for one year before moving to Oklahoma in the early 1950s.

Joe Huitt started working in the oil industry as a roustabout on a rig. He was superintendent of the Drumright oil field for Deep Rock Oil Co. before becoming purchasing agent and then vice president of production for company. He worked as a purchasing agent for Buffalo Oil Co. before becoming an independent oil producer in 1961. He was a member of Independent Petroleum Association of America and Oklahoma Independent Petroleum Association. He was president of Tulsa Engineers Society in 1953-54 and Tulsa Purchasing Agents in 1958.

The Huitts were active members of Southern Baptist churches throughout their lives. Jewel worked with a variety of church educational programs, and Joe filled a variety of roles as a deacon, trustee, Sunday School superintendent and department director. He also served on the executive committee of the Southern Baptist Convention. Additionally, he was a Gideon and headed fund-raising campaigns for the Red Cross and YMCA.

The Huitts have a daughter, Joanne, and a grandson, Justin.

Huitt provided the endowed gift in memory of his late wife, in recognition of "lifelong interest and involvement in religious education through her local church."

Bandy, who joined the OBU faculty in August 2009, was installed as the Rowena R. Strickland assistant professor of Bible. Before arriving at OBU, Bandy served as assistant director of Ph.D. studies for Southeastern Baptist Theological Seminary and as an adjunct professor of biblical and theological studies in Liberty University's Distance Learning Program. He also served as assistant professor of Christian studies at Louisiana College.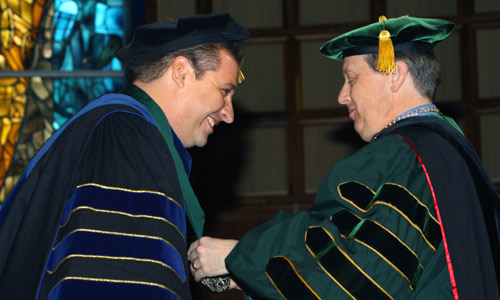 Dr. Alan Bandy (left) receives a medallion signifying his installment as Oklahoma Baptist University's Rowena R. Strickland assistant professor of Bible from OBU President David W. Whitlock.

A native of Bethesda, Md., Bandy has served in several ministerial church positions including pastor of Teachey Baptist Church in Teachy, N.C., pastor to students at National Avenue Baptist Church in Memphis, Tenn., and pastor to children/youth at Calvary Baptist in Loyall, Ky.

He has written several journal articles, most recently "The Layers of the Apocalypse: A Holistic Approach to Revelation's Structure," published in the Journal for the Study of the New Testament in June 2009. He has also contributed sections to three books and written several book reviews.

Originally from Cordell, Okla., Dr. Rowena Strickland received her bachelor's degree from OBU in 1937. She earned master's and doctoral degrees in theology from Southwestern Theological Seminary, becoming one of the first women to obtain a doctorate in theology from a Southern Baptist seminary. Prior to teaching at OBU, she taught at North Texas State University and Texas Woman's University.

Strickland's career at OBU spanned from 1953 through 1984. She retired with the rank of distinguished professor emerita of Bible. She was one of the first women Bible professors in Baptist life. Following her long tenure at OBU, she moved to Florida to teach religion at Palm Beach Atlantic College from 1985-88, when she returned to Shawnee. She lived near the OBU campus until her death in November 1997. Her estate provided funding for the endowed professorship in Bible.