SLT/OBU Present 'Into the Woods' Feb. 12
February 4, 2010
Shawnee Little Theatre will continue its ongoing capital improvements drive by joining with Oklahoma Baptist University to present the Stephen Sondheim musical "Into the Woods," premiering Feb. 12.

Proceeds from this season extra production will help fund lighting and sound improvements to the Shawnee Little Theatre facility located at 1829 Airport Road in Shawnee. A fund drive in summer 2009 raised more than $65,000 to expand the theatre's restrooms and remodel the lobby area. Ongoing technical upgrades estimated at $25,000 toward aging lighting and sound equipment will further the local community theatre's emphasis on quality of production.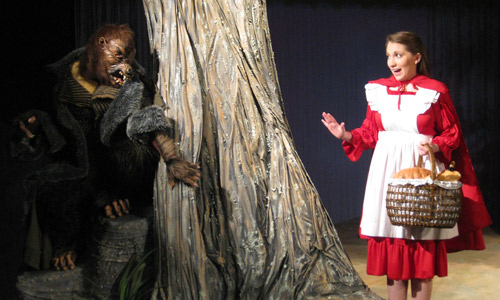 The Wolf (Lucas Simmons) tempts Little Red Riding Hood (Ashlynn Streck) in this scene from the Shawnee Little Theatre/Oklahoma Baptist University production of the Stephen Sondheim musical "Into the Woods." Simmons is an OBU sophomore from Weleetka, Okla., and Streck is an OBU freshman from Hennessey, Okla.

"Into the Woods" is the ninth time SLT and OBU have combined talents to produce a town-and-gown production. University students will receive college credit in musical theatre production for their participation onstage and behind the scenes.

Directed by Gregory Hopkins, with musical direction by OBU faculty Dr. Mark McQuade and Dr. Jennifer McQuade, the show will perform Friday and Saturday, Feb. 12-13, at 7:30 p.m.; and Wednesday through Saturday, Feb. 17, 18, 19 and 20, at 7:30 p.m. There will be a 2 p.m. matinee on Feb. 14.

SLT Season/Patron ticket holders will receive first choice at reservations for this season extra with a "priority day" Monday, Feb. 8, from 5 p.m. until 8 p.m. Box office hours beginning Tuesday, Feb. 9, are 5:30 p.m. to 8 p.m. daily, Monday through Saturday.

Tickets may be purchased by phone at (405) 275-2805. All phone orders must be purchased with a credit card.

Tickets are also available on line from the SLT Web site at www.shawneelittletheatre.com.

Based on classic fairy tales, "Into the Woods" boasts an array of cockeyed story book characters in James Lapine and Stephen Sondheim's fractured fairy tale version. With all characters "living happily ever after" by the end of Act One, the consequences of their actions return to haunt them in Act Two. What begins as an irreverent fantasy, becomes a moving lesson about community responsibility and the stories we tell our children.

SLT 2009-2010 season sponsors are BancFirst, ExxonMobil Chemical, Dr. Kirk Hoster, Optometrist, Prudential Carolyn Harris Realty, Inc. and Shawnee Milling Company.

Shawnee Little Theatre is a non-profit community theatre staffed totally by volunteers, celebrating its 43rd year of producing shows in the community.