OBU Maintains High Standards for 100 Years
February 10, 2010
"Amid the heaping pile of shattered hopes and broken dreams of schools started and institutions shuttered, God planted a vision in the hearts of Oklahoma Baptists" for higher education that no tribulation could derail during its 100-year history, said Dr. Paul R. Corts, during OBU's Founders' Day Centennial Chapel celebration Wednesday, Feb. 10, in Raley Chapel.
Corts, president of the Council for Christian Colleges and Universities, shared his message with a full audience during an event highlighted by the presentation of honorary doctor of humanities degrees to Dr. Bob R. Agee and Dr. John W. Parrish, two longtime OBU administrators. The service also included the premiere of the OBU Centennial Anthem, "Grow in Grace."
For chapel messages, follow this link.
"Today we gather in this magnificent chapel," Corts said of the landmark building constructed on Bison Hill under the supervision of the university's longest-tenured president, Dr. John Wesley Raley. "We're reminded as we meet here in this wonderful place of God's faithfulness to Oklahoma Baptist University and his showering of blessings upon it."
Corts said higher education institutions in the United States originally were founded by Christians determined to unify sound knowledge and learning with a moral, faith-based quest for truth. Today, he said, most of higher education has lost its way, abandoning even the idea of answering students' questions about the meaning of life or how one should live.
And yet, he noted, OBU has remained steadfast to the heartfelt desire of its founders - such as W.P. Blake, the first chairman of OBU's board of trustees, who offered this prayer in 1910 on the ground which would become the university's campus: "Send down upon the school the rich gift of Thy Good Spirit, that truth may be sincerely sought, faithfully received, and obediently followed."
"Founded on prayers of those on bended knees, chained to the Bible as the authoritative word of God, fueled by an openness to know all of God's truth, Oklahoma Baptists set a very high standard for their university to be an extraordinary place of learning that would honor and glorify the Lord God Almighty," Corts said.
Founders' Day on Bison Hill marks OBU heritage: the certificate of incorporation was issued to The Baptist University of Oklahoma on Feb. 9, 1910 - marking the official beginning of Oklahoma Baptist University - and on Feb. 22, 1911, a large crowd of supporters gathered on Bison Hill to dedicate the laying of the cornerstone of the first building on campus, Shawnee Hall.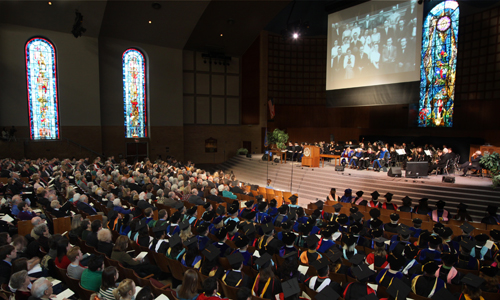 The OBU communities gather in Raley Chapel to celebrate the 100th anniversary of OBU Founders Day.
The first session of classes began in the fall of 1911 with 150 students enrolled. Temporary facilities were used in downtown Shawnee. The student body included men and women who were in college and others in preparatory school. At the close of the 1911-12 school year, nine students received degrees. Soon after the closing up of the work for the year, the president, Dr. J.M. Carroll, tendered his resignation and recommended the board of trustees temporarily close the school until the buildings on campus could be occupied and debt reduced. The school reopened in 1915, and his operated continuously since then.
"Today we remember those heroes of the faith who were obedient to God's call in those early years and became stewards of that sacred trust," Corts said. "They prayed earnestly, sacrificed in ways we can barely imagine in the affluence of our times, and although lights dimmed on several occasions, with their scrappy determination and God's favor, they simply would not allow the lights to go out."
Corts noted the faculty, administration and students have all built faithfully on the foundation laid 100 years ago - the foundation of Jesus Christ - to make OBU what it is today: one of the finest universities of its size and its type in North America. He shared how God affected his own life during his five-year tenure at OBU.
"We joined a litany of persons of faith who ministered here with a humble innocence of our relative youth, and poured our heart and soul into this place," he said. "God used this place and the people of this place to impact this person, just as God has done with thousands and thousands of individuals, using Oklahoma Baptist University to transform, to shape, to mold our lives into the image and likeness of the Lord Jesus Christ.
"Today, we are beneficiaries of those who were faithful stewards following the admonition of Scripture to preserve and grow the faith that was, once for all, entrusted to the saints. Today we celebrate Oklahoma Baptist University as a beacon of light - a very special place." Centennial Founders' Day
While embracing the enormity of how God has used OBU to transform lives, Corts implored the university community to also remain faithful to God's calling to build a strong institution for future generations.
Corts is the fifth president of the Council for Christian Colleges and Universities in Washington, D.C. He previously served as assistant attorney general for administration for the U.S. Justice Department and president of Palm Beach Atlantic University and Wingate University. He served as executive vice president of OBU from 1978-83.
The program also featured special guests Dr. E. Eugene Hall, OBU's 12th president; Dr. Mark Brister, OBU's 14th president; and Dr. John Wesley Raley Jr., a 1954 OBU graduate and son of OBU's eighth president.

The university faculty and the board of trustees voted to award honorary doctor of humanities degrees to Agee and Parrish, two former OBU administrators. Agee served as OBU's 13th president from 1982-98, achieving the second-longest tenure of the school's chief executive officers. He led the university to records in student enrollment and achieved significant success in fundraising with three major capital campaigns during his tenure, resulting in new construction, renovation of existing facilities and growth in endowment for scholarships and academic positions. During his administration, OBU began achieving national recognition from U.S. News & World Report. Under his leadership, OBU initiated international programs in China, Russia and Brazil and expanded missions opportunities for students throughout the world. Agee and his wife, Nelle, a retired OBU faculty member, live in Jackson, Tenn.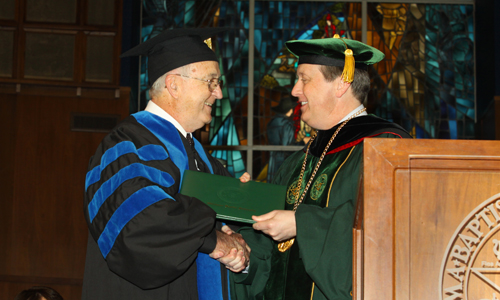 President David W. Whitlock presents Dr. Bob R. Agee with an honorary doctor of humanities degree.

Parrish, OBU executive vice president emeritus, served as OBU's interim president from November 2007 through October 2008. He came to OBU in 1964 as director of publications and publicity. He also served as an instructor in journalism and student publications advisor. Through the years, he served as public relations director, alumni director, assistant vice president for development, vice president for institutional advancement, senior vice president for business and external affairs, and executive vice president and chief financial officer. He has received OBU's Distinguished Service Award and Meritorious Service Award and is a member of the OBU Athletic Hall of Fame. He was named an honorary OBU alumnus in 1989. He has served as chair of OBU's Centennial Committee since 2005, and he is in his third tour of duty as the broadcast voice of the Bison basketball team. Parrish and his wife, Mary Kay, professor emerita of music, live in Shawnee.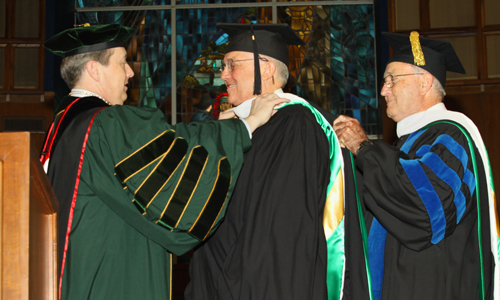 President David W. Whitlock and Dr. Bob R. Agee hood Dr. John W. Parrish with an honorary doctor of humanities degree.

The Centennial Anthem, "Grow in Grace," is based on a prayer offered by W.P. Blake, a founder of OBU. Music for the anthem was composed by OBU alumna Donna Butler Douglas, who graduated in 1982. Orchestration was provided by Dr. C.L. Bass, a 1957 OBU graduate who also served as an OBU faculty member for 12 years.