Governor Celebrates at Founders' Day Luncheon
February 12, 2010
The Honorable C. Brad Henry, Governor of Oklahoma, was one of several esteemed guests who brought greetings and reflections to Oklahoma Baptist University during its Centennial Celebration Founders' Day Luncheon Wednesday, Feb. 10, on the OBU campus. Governor Henry proclaimed Feb. 9, 2010, as "Founders' Day" in Oklahoma in honor of the day the certificate of incorporation was issued to The Baptist University of Oklahoma in 1910.

Henry said while it is always great to be back in his hometown of Shawnee, it was especially great to be celebrating the 100-year anniversary of an institution which has made an incredible impact not only on several members of his own extended family, but also on the entire state of Oklahoma.

"OBU is consistently ranked as one of the best liberal arts universities in the country, and focuses both on the intellectual and spiritual lives of its students, and creates graduates who are not only knowledgeable critical thinkers, but are also morally grounded people of faith," Henry said.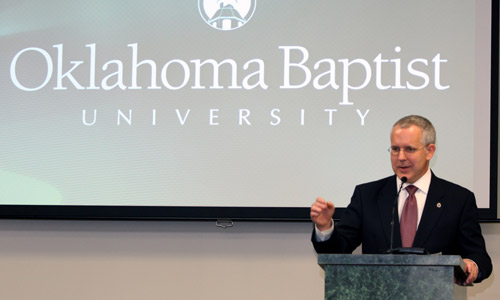 Oklahoma Governor Brad Henry proclaims Feb. 9, 2010, as "Founders' Day" in honor of Oklahoma Baptist University's Centennial Celebration during a luncheon Wednesday, Feb. 10, on the OBU campus.

"This institution has had a greater impact on the state of Oklahoma than you may know because over the seven years I have been in office, I have employed seven individuals who graduated from here," he added. "I have taken that great knowledge and moral value system that this great institution gives to its student, and I've brought that to state government. I think it has served us well, and I'm very proud of that fact."

As governor, Henry said he thinks a lot about how to move Oklahoma forward, and OBU has played a role in advancing the state.

"The best way to do that is to produce more college graduates and keep them here in our state, and that's exactly what Oklahoma Baptist University has been doing now for 100 years," he said, noting OBU has had more than 17,000 graduates. "Many of them have stayed here in our state and have become great leaders and contributed mightily to the quality of life in this state. Many have gone to other states and other countries and have done the same thing. It's something for which we should all be very proud."

Other guests who brought greetings included Linda Peterson, mayor of the City of Shawnee; Dr. Michael Arrington, executive director, International Association of Baptist Colleges and Universities; Lesa Smaligo, executive director, Oklahoma Independent Colleges and Universities; Ron Fannin, senior associate executive director, Baptist General Convention of Oklahoma; Dr. Kevin Clarkson, chair, OBU board of trustees; Dr. Kevin Hall, chair, OBU faculty council; Ryan Womack, president, OBU student government association; and Carl Storm, president, OBU Alumni Association.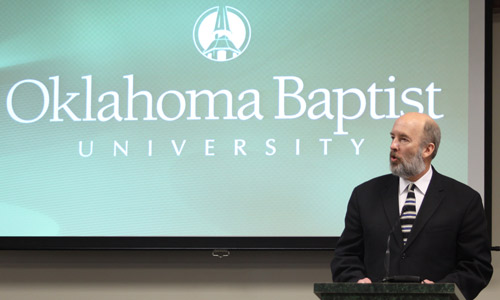 Dr. Kevin Hall presents greetings during OBU's Founders' Day Luncheon on behalf of the faculty. "The men and women I represent are my heroes," Hall said. Each day, armed only with words, Hall said the faculty "convince those who came here pursuing a career to embrace an education."

Dr. John Wesley Raley Jr., son of OBU's eighth and longest-tenured president, recalled time spent on Bison Hill as a child, including befriending the campus gardener, Pete Jones. Raley, a 1954 OBU graduate, recited a poem originally presented by his father during his inauguration in 1934. Part of the text reads, "God, make this my altar, Myself the sacrifice, This task to which I put my hand."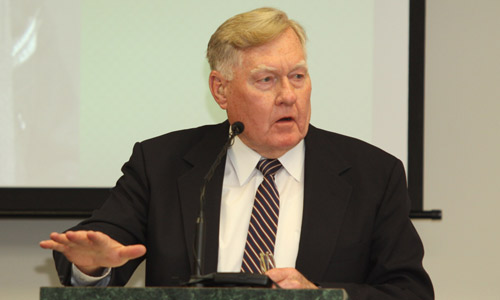 Dr. John Wesley Raley Jr., a 1954 OBU graduate, shared the historical reflection of his father's poem during OBU's Founders' Day Luncheon Wednesday, Feb. 10.

Known for his quick wit, longtime Oklahoma Baptist statesman Dr. Lloyd G. Minter said he felt apprehension about being part of the extensive program for the luncheon, noting "the length of the service is going to transcend my life expectancy."

In seriousness, Minter shared quotes from Dr. James R. Scales, OBU's ninth president, whom Minter described as "a consummate gentleman and scholar." During his tenure on Bison Hill, Scales was quoted to have said, "I have never thought of myself as anything but a teacher. It is the proudest title I shall ever carry."

Representing other past presidencies, several guests shared reflections about their part in OBU's history, including Dr. Grady C. Cothen, OBU's 10th president, who brought greetings via video; Mrs. Ellen Tanner, OBU's 11th first lady, whose remarks were read by Ramona Farthing, OBU professor emerita of French; Dr. E. Eugene Hall, OBU's 12th president; and Dr. Mark A. Brister, OBU's 14th president.

The luncheon was punctuated by responses from Dr. Bob R. Agee, OBU's 13th president, and Dr. John W. Parrish, OBU executive vice president emeritus. Agee and Parrish were awarded honorary doctor of humanities degrees during the Founders' Day chapel service preceding the luncheon.