Board Approves Budget, New Faculty Salary System
February 5, 2010
During their spring semester meeting on campus Friday, Oklahoma Baptist University trustees approved a $43.37 million operating budget for the 2010-11 year, adopted a new faculty salary system, and ratified revisions to a faculty sabbatical leave program.

Randy L. Smith, OBU executive vice president for business and administrative services, said the new budget will include a projected distribution of $12.95 million in scholarships for the 2010-11 academic year, an increase of nearly $1 millon over the 2009-10 distribution.

Trustees approved an administrative proposal for a new faculty salary system which university officials said would be a "momentous" step forward for compensation of OBU's 110 faculty members.

"The system will set a new, transparent framework for what faculty salaries will be," Smith said. "It will also drastically increase the minimums for our faculty."

The new system will become effective Aug. 1, 2010. Smith said it would result in salary increases for faculty who currently are paid below the new minimum levels.

"This is Phase Two of our salary improvement plan," Smith said. "Phase One was consistent budgeting of cost-of-living increases. We have done that."

The salary system includes increased minimum levels based on educational degrees.

"This system is designed to reward advanced educational preparation and promotion through the academic ranks," Smith said, as he explained a salary structure formula based on an array of factors including academic rank, educational degree, and experience at OBU.

"This will also help transform our strategic planning," Whitlock said.


Apart from the faculty salary system, the 2010-11 budget will include a two percent cost-of-living salary increase for all OBU faculty and staff members.

Trustees also approved a recommendation to revise a sabbatical leave program which provides opportunities for faculty to enhance "professional and intellectual development.""We are asking you to approve a commitment to a minimum of two sabbatical leaves each academic year," OBU President David Whitlock said to the board. "Strong sabbatical programs carry the expectation that the faculty member will return with an increased effectiveness in their profession."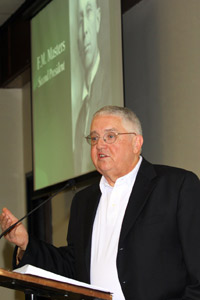 John W. Parrish, executive vice president
emeritus,
gave trustees an overview
of significant OBU
board actions. Pictured
behind Parrish is
Dr. F.M. Masters, OBU's
second president,
who was chief administrator
when the university
reopened in 1915 after
more than two years
of suspended operation.
"By strengthening our salary structure and our sabbatical program, we are taking prudent steps to assure that our academic reputation will continue to flourish," Whitlock said. "Our students, their employers, their churches and their communities will ultimately benefit from these actions."


In other business, the board approved changing the name of the university's graduate program from the OBU International Graduate School to the OBU Graduate School. According to OBU officials, the name change more accurately reflects the graduate offerings. The graduate school, which was launched in 2007, initially focused on an MBA degree program which included an international study component. OBU now offers a graduate degree in nursing education and anticipates more degrees which would not feature specific international components.

Board members also approved senior faculty status for four faculty members, allowing continuous contracts for those educators. The faculty approved were Julie Blackstone, assistant professor of art; Michael Bruce, assistant professor of telecommunications; Dr. Keith Harman, professor of business; and Dr. Richard Rudebock, Cargill associate professor of business.

Dr. Kevin Clarkson, chair of OBU's 33-member board of trustees, moderated the board's plenary session. Clarkson is senior pastor of the First Baptist Church of Moore.