Annual Concerto-Aria Concert Features Eight Students
February 2, 2010
Oklahoma Baptist University's 36th annual Concerto-Aria Concert will feature the musical gifts of eight students who will perform with a full orchestra Monday, Feb. 15. The concert will begin at 8:30 p.m. in Raley Chapel's Potter Auditorium. The public is invited to attend the free event.

Student performers are selected by audition. This year's concert will feature two vocalists, Morgan Gordan, a senior soprano from Lexington, Okla., and Sarah Graham, a junior soprano from Ponca City, Okla. Ian Hockett, a senior from Dallas, Texas, is the featured composer.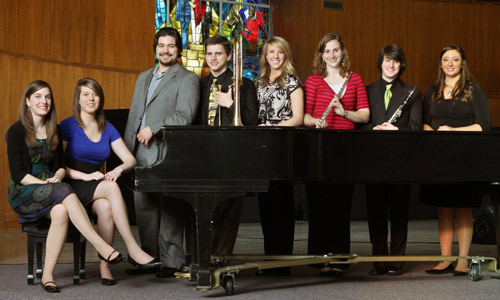 Students performing during the 36th annual Concerto-Aria Concert on Monday, Feb. 15, include (from left) Spring Butler, Monetta Nicole Thompson, Ian Hockett, Tyler Neighbors, Sarah Graham, Valerie Hunt, Daniel Anderson and Morgan Gordon.

Five instrumentalists will also be featured: Daniel Anderson, a freshman clarinetist from Broken Arrow, Okla.; Tyler Scott Neighbors, a junior trombonist from Skiatook, Okla.; Spring Butler, a senior pianist from Grapevine, Texas; Valerie Hunt, a junior flutist from Peoria, Ariz.; and Monetta Nicole Thompson, a senior pianist from Ardmore, Okla.

Conductors of the concert are Dr. Jim Hansford, OBU's Burton Patterson professor of music and director of bands, and Dr. David DeSeguirant, OBU associate professor of music and director of choral activities.

"The Concerto-Aria venue presents OBU's music students with an opportunity to experience the professional world of music performance as pre-professional undergraduate musicians," DeSeguirant said. "Often, students are repeat performers and the audition process inspires them to learn new repertoire they might otherwise not experience. Additionally, the potential of performing on the Concerto-Aria program provides a goal that is challenging and ultimately enriching."

Hansford said during the 36-year history of the annual concert, more than 200 OBU students have performed some of the most significant literature ever composed for solo piano, orchestral instrument or voice.

"Our Concerto-Aria event is quite unique among undergraduate schools since most similar concert venues at other universities focus primarily on their graduate students," Hansford said. "It is truly a distinctive honor to be afforded an opportunity to perform as an undergraduate with a full orchestra. The rigorous audition process is a virtual laboratory for our performers who plan to compete on the larger world stage of opera, Broadway musicals or orchestral performance."

A pre-concert lecture will begin at 7:30 p.m. Feb. 15 in Raley Chapel room 203E. Hockett and Abigail Chaplin, a senior from Noble, Okla., will introduce the pieces to be performed during the concert, providing background information to assist the audience with listening to the event.

The concert will conclude OBU's Fine Arts Main Event. The annual event welcomes prospective music students and their parents to visit the OBU campus, attend classes and discussion panels and audition for music scholarships on Bison Hill.

For more information about the Concerto-Aria Concert, contact OBU's Division of Music at (405) 878-2305 or music@okbu.edu.