Faculty, Students Touch Lives through Harvest Farms
January 14, 2010
Riding a horse can be a freeing experience. From a simple turn of the wrist to control direction to a gentle nudge of the heel to increase speed, a horse rider gains confidence. Harvest Farms, a therapeutic horse riding center in Shawnee, takes these principles and creates a refuge for area children. 
Harvest Farms was designed in 2004 by former Oklahoma Baptist University employee Dr. Jackie Wilks as a place for children who have physical or mental disabilities or who deal with emotional issues, traumas or stresses. Many of the children who attend Harvest Farms like horses but don't get a chance to be around them otherwise.

In every sense, Harvest Farms is a safe haven. It provides children and their families a place where they can relax and not worry about how people are going to respond to them. At Harvest Farms, people are accepted exactly as they are with complete genuineness and authenticity. None of it is contrived, and everyone is loved.

Oklahoma Baptist University students and faculty have found an opportunity to share their love with Shawnee-area children through the Harvest Farms ministry, which is supported by OBU's Avery T. Willis Center for Global Outreach.

The volunteers who work at Harvest Farms have a true love not only for horses, but also for people. One faithful volunteer is Dr. Kaylene Barbe, OBU professor of communication studies.

"I enjoy horses and children and Harvest Farms offered a chance to work with both," Barbe said. "When people are with animals, it changes them. We become more relaxed. It has been rewarding to see children change by participating in the program. I have seen children become physically stronger, more interactive with others, and more confident."

Another volunteer, OBU junior Janeth Carreon, shares Barbe's enthusiasm for the work of Harvest Farms.

"For me, it has been a sharing of time and love through games, arts and crafts, Bible stories and horse riding," said Carreon, who is from Seminole, Okla. "It has been a time for me to become God's love put into action."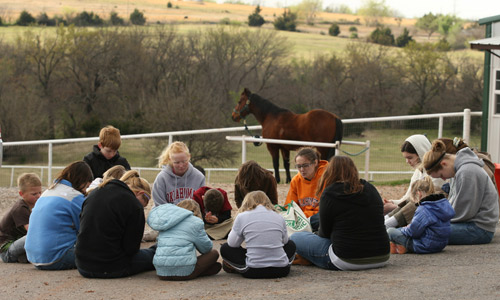 Participants and volunteers at Harvest Farms therapeutic horse riding center pause for prayer during an afternoon filled with games, arts and crafts, Bible stories and horse riding. Oklahoma Baptist University students have found Harvest Farms an opportunity to connect with children in the Shawnee area.

The volunteers at Harvest Farms truly care about the children and families they are helping. They approach their roles with selfless and humble hearts, and they have a genuine love for both the people and the process.

"There is something peaceful and beautiful about the country and a farm with children running around happy," Carreon said. "To see the children learning to ride a horse, learning about Jesus and smiling and laughing makes everything worth it."

The volunteers say the beauty of Harvest Farms is found in the smiles of the children and families who go there. It is about that for that moment - however brief it may be - that a person experienced joy.

"There's nothing more rewarding than seeing a kid smile," Barbe said.