Centennial Founders' Day Planned for Feb. 10
January 14, 2010
A highlight to Oklahoma Baptist University's ongoing Centennial Celebration, Founders' Day will commemorate the university's incorporation in February 1910 during two special events slated for Wednesday, Feb. 10. A campus chapel service is scheduled for 10-11:30 a.m. in Raley Chapel's Potter Auditorium. A community worship service is planned for 6:30 p.m., also in Potter Auditorium. The public is invited to attend both events.
Dr. Paul Corts, president of the Council for Christian Colleges and Universities, will be the keynote speaker at the Founders' Day Chapel. The program will include several special recognitions and the presentation of honorary doctorates to Dr. Bob R. Agee, OBU president emeritus, and John W. Parrish, OBU executive vice president emeritus.

To accommodate the 90-minute service, 11 a.m. classes will be canceled on Feb. 10.

"Founders' Day is a special occasion on Bison Hill," said Parrish, who is serving as chairman of the Centennial Committee. "It marks a time when we remember our heritage. It was on Feb. 9, 1910, that the certificate of incorporation was issued to The Baptist University of Oklahoma - marking the official beginning of this school. And it was on Feb. 22, 1911, that a large crowd of supporters gathered on Bison Hill to dedicate the laying of the cornerstone of the first building on campus - Shawnee Hall - under construction at that time. Therefore, through the years, February has been a time to look back and remember those who made this university possible.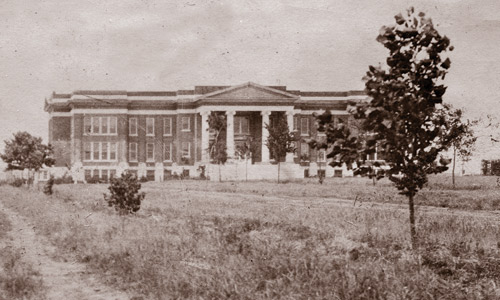 Nearly 100 years ago, Shawnee Hall sits on the new Oklahoma Baptist University campus.

"Of course, this year's Founders' Day observance is even more significant because we gather to celebrate OBU's 100th anniversary. Our Centennial Celebration actually began with the fall semester of 2009 and will continue through December of this year. But, the Founders' Day events mark a major highlight on our Centennial Celebration calendar."

In addition to the Chapel service, a Founders' Day Worship Service is planned for 6:30 p.m. Feb. 10 in Potter Auditorium. Agee will bring the message during this Centennial event. Music will be provided by combined choirs from churches in Pottawatomie-Lincoln Baptist Association.

"Oklahoma Baptist leaders W.P. Blake and G. Lee Phelps believed God had led them to Bison Hill place to establish a university which would be built on truth, honor and humility, as well as on intellect and faith," said OBU President David Whitlock. "They were convinced God had divinely led them to this point to found a new university to serve the new state of Oklahoma. We welcome the opportunity Founders' Day provides to honor the memory of former faculty members, administrators and others who, through the years, exhibited a love for Bison Hill and a dedication to the scholarship which still inspires the OBU community today."